Lodge News
March 2020 Message from ER Jack Warf
My Brothers and Sister Elks,
This will be my last article as your Exalted Ruler. It's been a great and very rewarding year for me.
While my wife Carol has not been able to play an active role due to health reasons, she wants you to know she shares in my pride and enthusiasm during my tenure as Exalted Ruler. I sincerely hope I have lived up to your expectations. I would like to thank all our Officers and their Spouses for their help over the past year. I would also like to give a special thank you to the members of the Emblem club for their support. They have always been staunch supporters of Elkdom and too often overlooked! ...

We accomplished just about everything we set out to do this past year and once again, we owe it to those dedicated Elks who made it happen. Most of all, I thank our members who supported the Lodge with both hard work and donations. We did a lot of good things and had fun in the process!
I think one of the highlight of the year was the challenge extended by Major General John Collens Mortgage Matching proposal. The enthusiasm demonstrated by our Lodge members was amazing. I felt very proud to be a part of it…. let alone being the Exalted Ruler, presiding during this great project. I know all our Officers feel the same.
As my year comes to a close as Exalted Ruler, it does not mean that I will fade into the sunset. I fully intend to be an active Past Exalted Ruler. I hope that my knowledge and experience will be of value as our Lodge turns the page and welcomes a new administration. I can assure you, with great confidence; they are willing and able to take on the challenges that lie ahead.
Our Lodge has a very fine group of incoming officers and it is up to us to show them that this Lodge stands ready to give them the support they deserve. Once again, thank you all for one of the greatest years of my life.
Always keep in mind we are all Brothers and Sisters in Elkdom and we should be faithful to our obligation to practice Charity, Justice, Brotherly Love and Fidelity. Remember you are a member of a Lodge not a social club. There is a very big difference between the two.
Fraternally,
Jack Warf
Exalted Ruler - Placerville Elks Lodge #1712


Placerville ELks Hoop Shoot 2020
Several records were broken on January 11, 2020 in the Hoop Shoot Competition held at Marina Village Mid. Sch. In El Dorado Hills.
Despite the last minute change of location, 16 schools from El Dorado County sent over 50 contestants. There were 47 who qualified and yielded 6 winners in ages 8-13 year old Boys/Girls competition. These winners will move on to NorCal Finals Sat. Jan. 25 in Carmichael.
Another record was broken with 9 yr. old Mark Degenis from Lake Forest Elem. who shot 24 out of 25 free throws. We'll look forward to see how he does in future competition at the state level.
Another successful effort by Placerville 1712 lodge volunteers plus coaches, teachers and parents from our fine community.

John K. Brideson, HoopShoot Director
Americanism Essay Contest Awards Dinner 2020
On February 27, 2020, Placerville Elks lodge held the Awards dinner for the Americanism Contest winners.

Lodge Events Coming Soon
St. Patrick's Dinner and Dance, March 20, 2020 CANCELED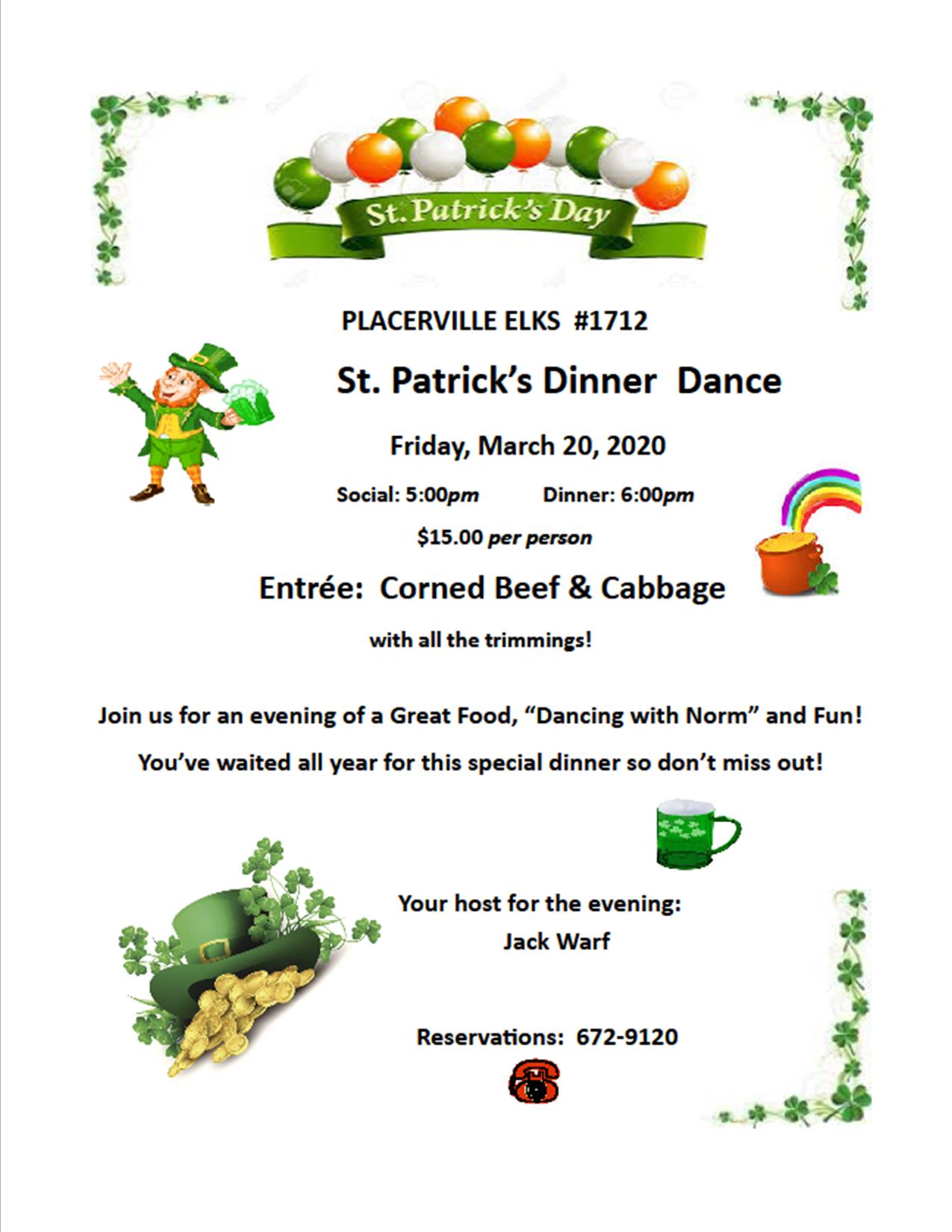 Come to lodge and enjoy a tradition Corned Beef and cabbage dinner with your Elks Members and guests. Mark you calendar and sign up at the lodge or by calling 530 672-9120
Volunteer Appreciation Nite Dinner, March 21, 2020 CANCELED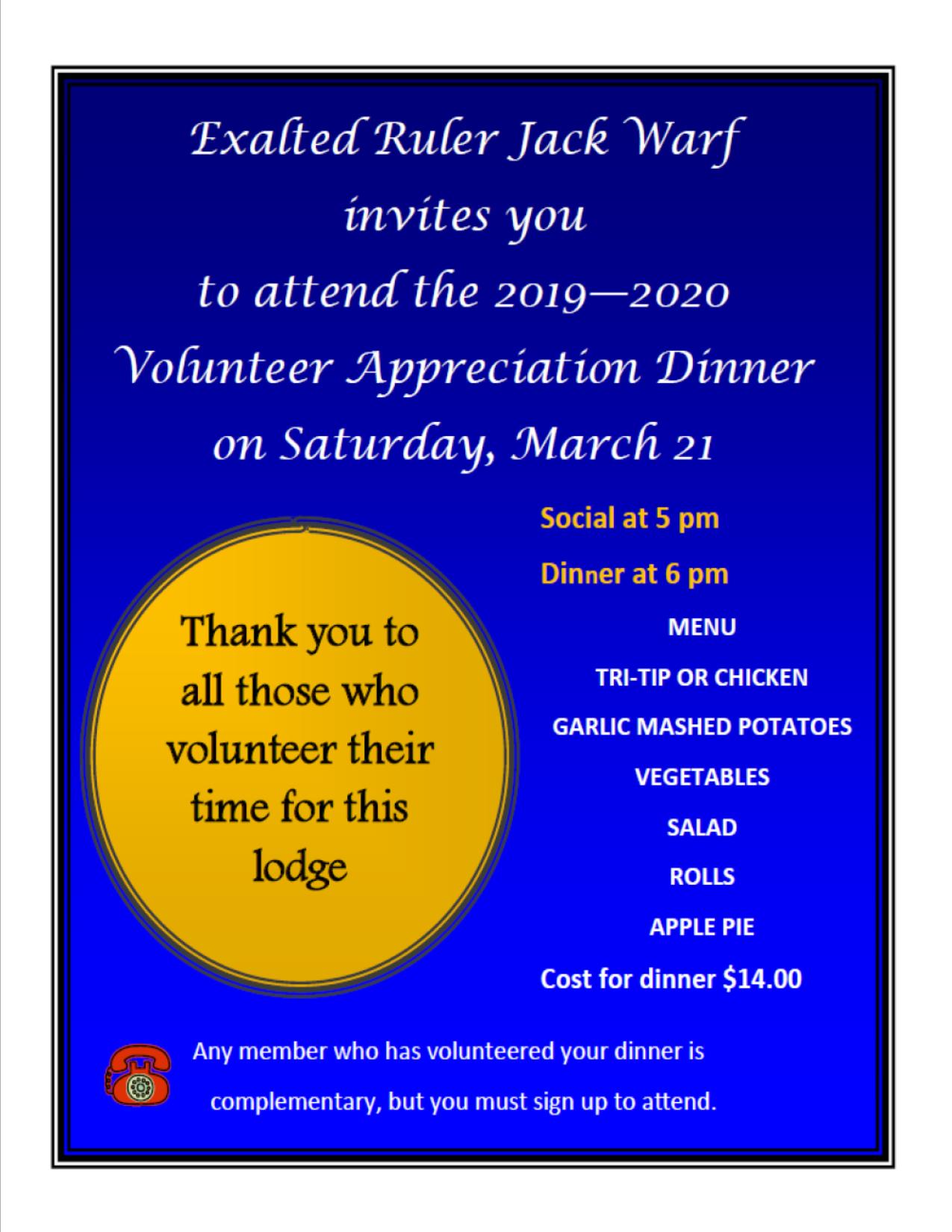 Exaulted Ruler, Jack Warf, invites you to attend this Thank-you dinner provided free to our members who volunteer for the lodge during the year. Without these volunteers the lodge would not function. Others can join the dinner for a nominal price. Sign up at the lodge or by calling 530 672-9120 for your reservations.
Placerville 1712 Installation of Officers, March 28, 2020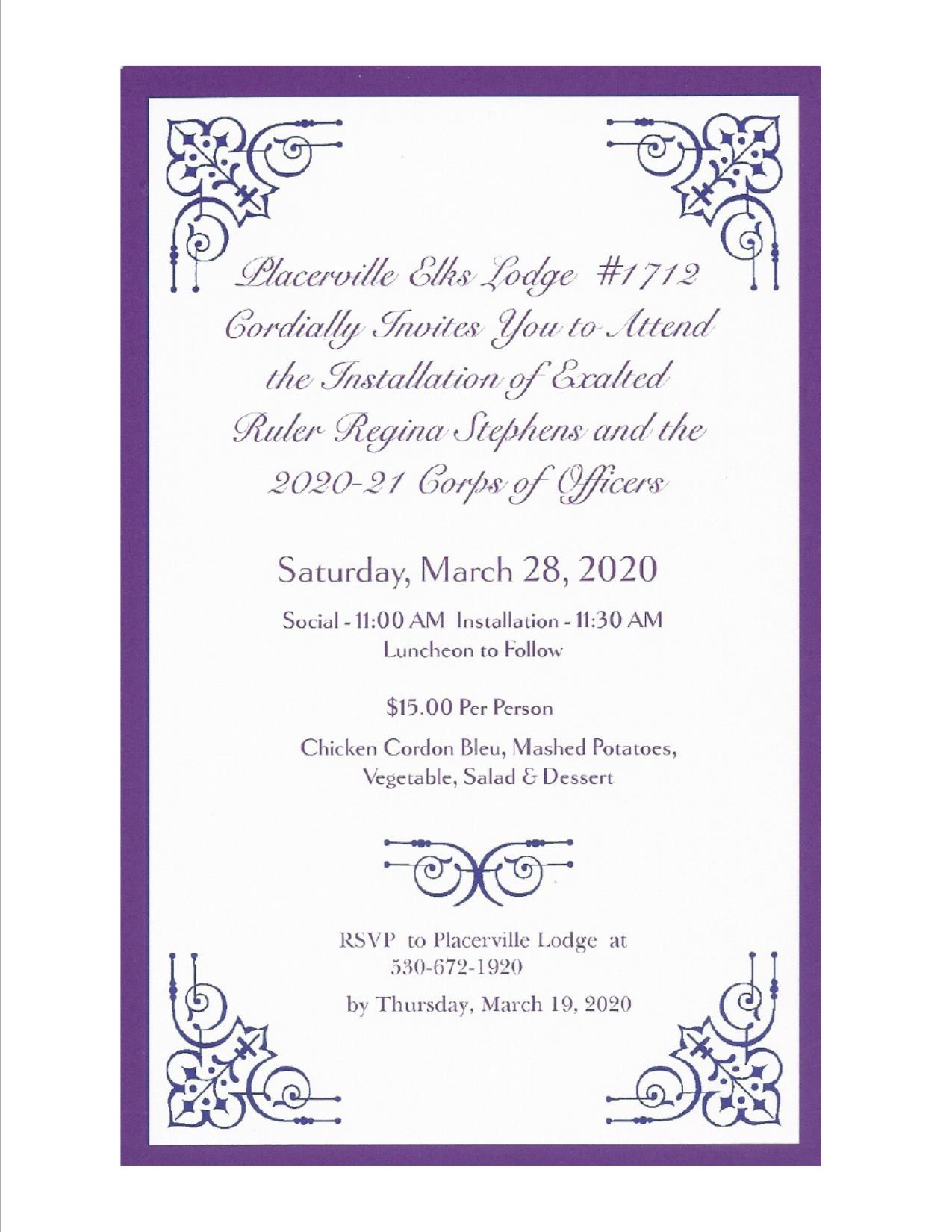 Placerville Elks Lodge #1712 Cordially invites you to attend the Installation of Officers for Regina Stephens and the 2020-2021 Corps of Officers. A Luncheon is to follow for $15.00 per person. You must have reservations. RSVP up at the lodge or by calling 530 672-9120 for your reservations by March 19, 2020.