Lodge News
July 2019 Message from ER Jack Warf
My Fellow Elk Members:
I hope you are all well and enjoying your summer day. As your Exalted Ruler, I want to welcome and encourage you to come to the Lodge, participate and enjoy all that Elks have to offer. We have a Lodge that has many talented people who are excited and want to mentor our new and old members and make the 150-year tradition of the Elks continue long into the future. There is so much to do at the Lodge, important fundraising for our lodge as well as very worthy charitable causes. While traveling around to all VP visitations at other lodges I have been building a strong relationship with all district ER's and their officers.
Let's do a quick update on our Lodge projects to date:
1. To pay off our mortgage through Major General John Collens Trust Matching Funds. We have until August 25th to raise $47,500 – As of this writing we are at $18,300.26 or 38.5% of meeting our goal. Please help – if you can think of any creative ways of generating donations, fund raising ideas, etc., please contact Marc Roberts.
2. Follow up on our new solar farm by monitoring our power production relative to our PG&E usage. We are at 99.9% production and monitoring generation daily until first true up.
3. Continue the focus on our community through (Americanism, Youth/Soccer Activities, Hoop Shoot, BLT Legacy Giving, Purple Pig Project, CHEA and CHEMPI). The list continues to grow each day. NOTE to all Committee Chairman your activity reports are due to Joni (Lodge Secretary) by July 1st.
4. Have fun, volunteer, share your talents and most importantly did I mention have more fun. Did you come to our Rock-n-Roll burger night? What a fun time for all. Did you come to the new Taco night layout? Build your own. Great setup and great turn out. How about the Beatles band night? Great music and food. Your suggestions for new activities is needed. Remember this is your lodge so the fun or the lack of it is based on all of our Elks input for success.
5. Look into family events where our kids and family members can come and enjoy our lodge.
6. Review having open lunches/socials on the weekend for those that can't drive at night. This is under review at this time.
We look forward to your participation at lodge events and want to thank those who have been actively volunteering. If you would like to volunteer to host or learn how to host one of these dinner dances or want to help in the kitchen or donate gifts for baskets or silent auction items, please call the Lodge activities chairman, or me at 530-558-0845. There are many rewarding ways to participate and help out your Lodge. You may be getting a call from a contact at our Lodge to welcome, talk to you about your interests and to let you know of our upcoming events. Also, please, please free to call and see how you can get involved.
Jack Warf, Exalted Ruler Placerville Elks Lodge #1712
March 2019 Installation of Officers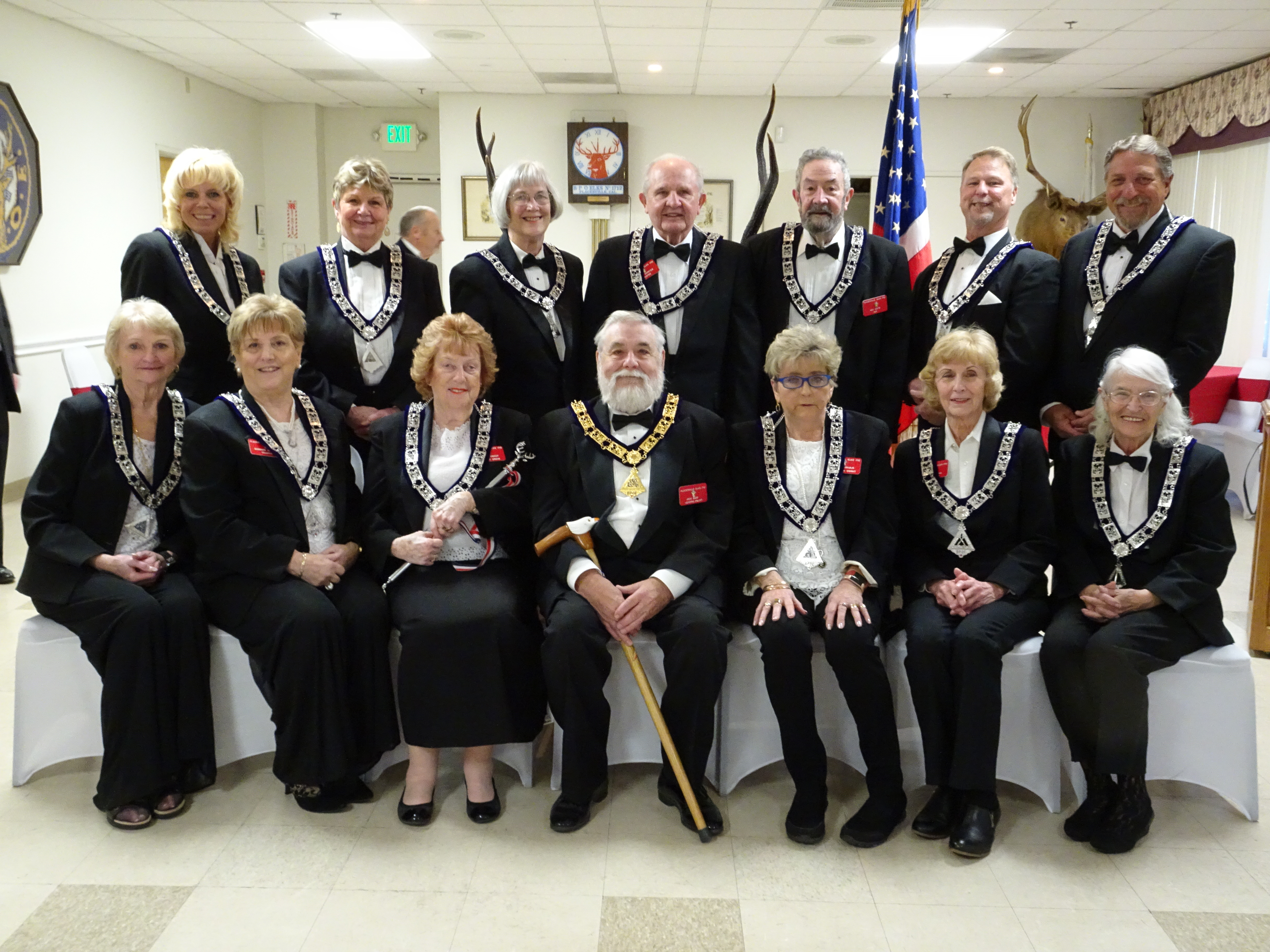 On March 30, 2019 Placerville Elks Lodge 1712 held its annual Installation of Officers for the 2019/2020 year. The group of talented and dedicated individuals are eager to assume the roles, responsibilites and duties of their office. Many thanks to all who attended and participated in this wonderful event.




Lodge Events Coming Soon
Western Hoe Down Rib Feed, July 27th
Hitch up your wagon and get youself and your guests to lodge and enjoy some of the best Rib cookin you have ever tasted. For $15 per person you get Jack's Famous BBQ Ribs, beans, coleslaw, dinner rolls and desert. Later on dancin music will be provided by "Random Strangers" for your evening entertainment. Social Hour is at 5pm, Dinner at 6pm with dancing music to follow till 10pm. Hurry and call the lodge to sign up as space is limited. 672-9120 by July 26th.
Yountville Veterans Home Annual BBQ, August 10th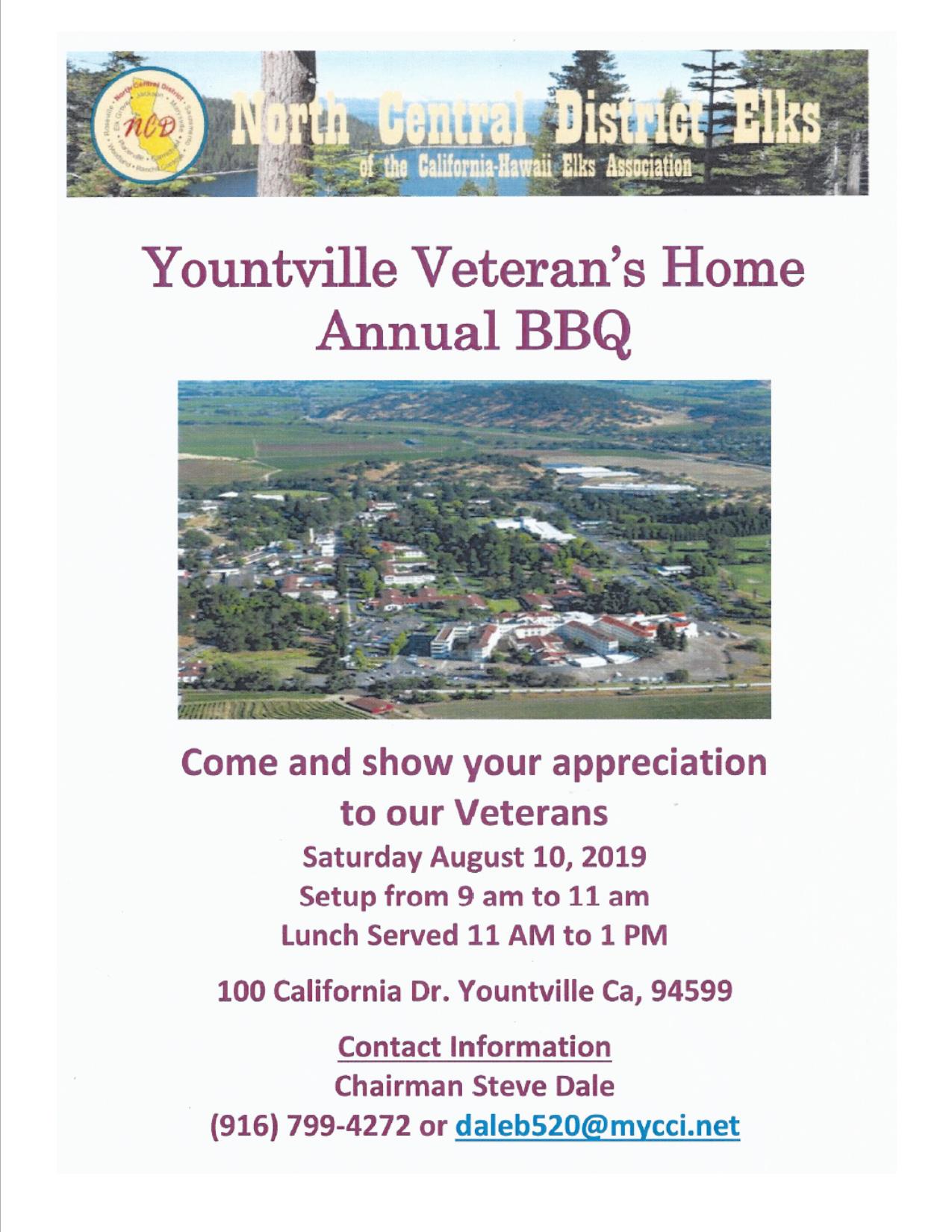 Come and Show your appreciation to our Veterans at the annual Yountville Veteran's Home Annual BBQ. YOu can help with setup from 9 am to 11am and then lunch will be served from 11am to 1pm.
100 Califonia Dr. Yountville, CA. 94599
For more information Contact CHairman Steve Dale 916 799-4272
Collins Trust Mortgage Paydown Dinner, August 16th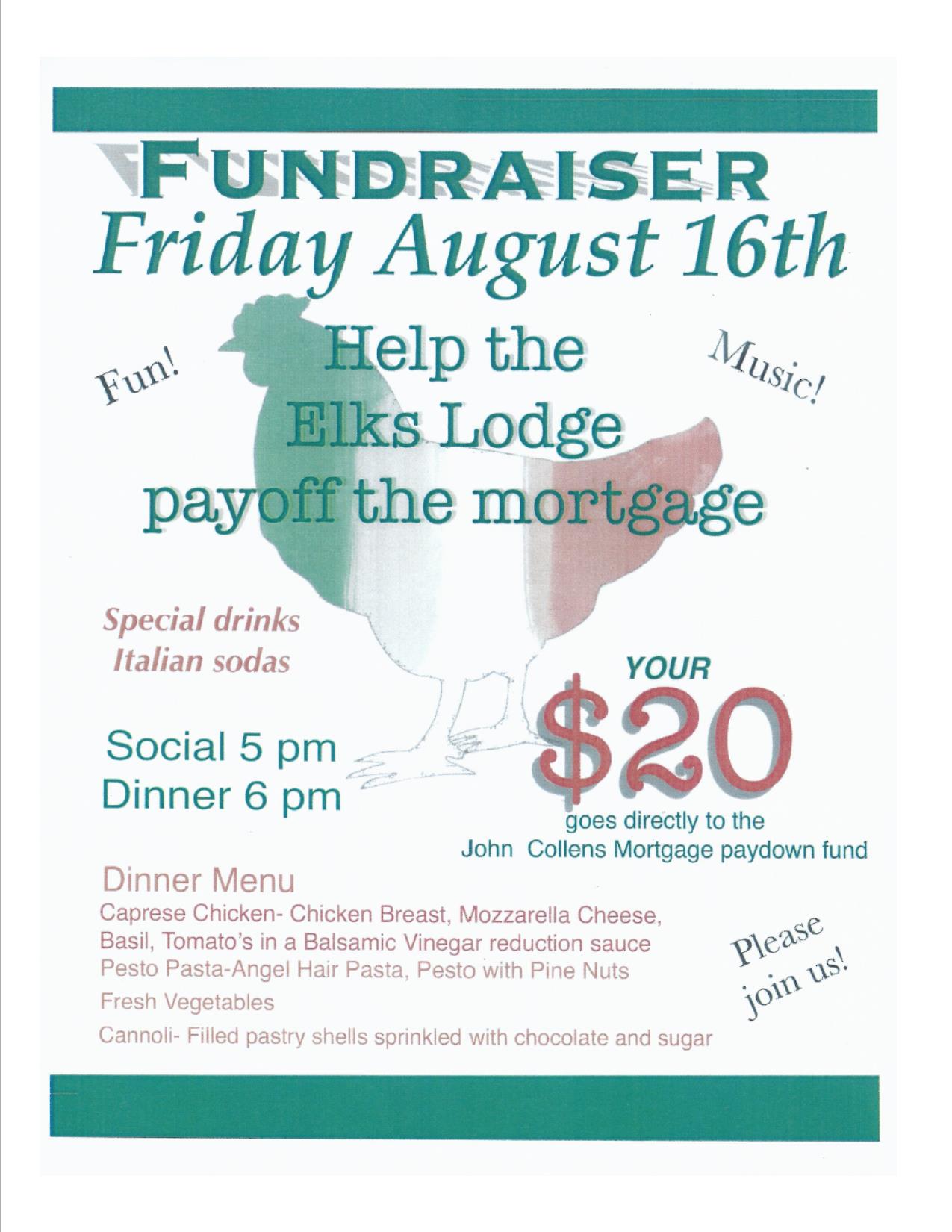 This is a wonderful opportunity to have a GREAT dinner (check out the menu), socialize with all your Lodge Elk Friends and have all the proceeds of your $20 dinner price go towards paying down our mortgage loan.
Social Hour is at 5pm, Dinner at 6pm
Hurry and call the lodge to sign up as this will fill up fast. 530 672-9120
Hot August Nite Dinner & Dance, August 23th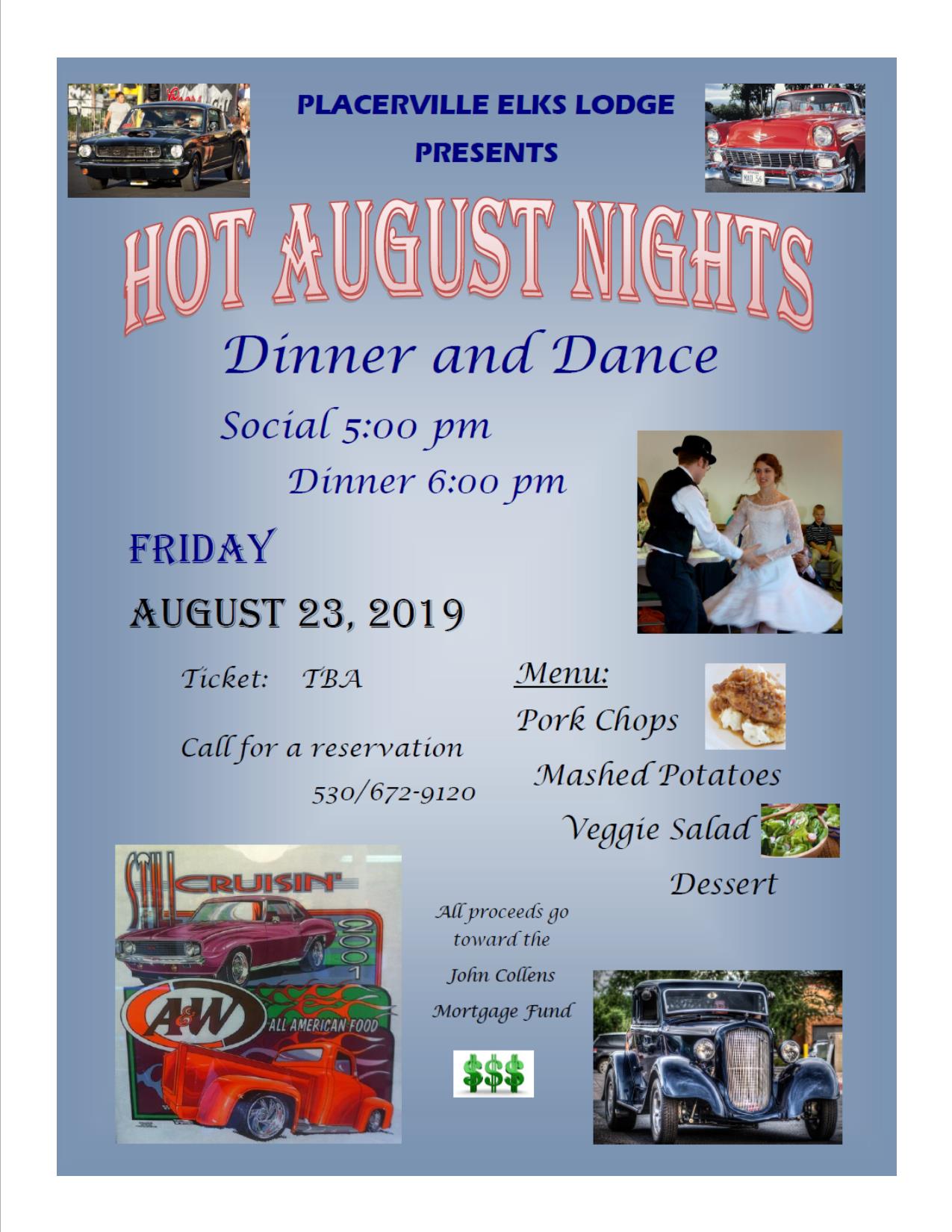 With summer in full swing, it is time to get to the lodge and enjoy an nice evening of dinner and dancing. Social Hour is at 5pm, Dinner at 6pm with dancing music to follow till 10pm. Call the lodge to sign up. 672-9120