Lodge News
October 2019 Message from ER Jack Warf

My Fellow Elks:
It is difficult to believe the holidays are almost upon us. Halloween is just around the corner, followed by the annual celebration for our Veterans (dinner and dance). Then we have Thanksgiving, with the traditional dinner and music. This year our own Jim Stephens is the NCD Vice President and we will be hosting the California-Hawaii State President and his entourage for a 3-day tour of our area with a formal dinner to be held at our lodge Saturday, Nov. 23rd honoring the CHEA President, Tim Jaegar and his wife Sandy. After we close out November, we head into the Christmas Festivities. We have our Foster Kids Christmas shopping and breakfast which is always a great time; as is our lodge kids and grandkids' Christmas luncheon, with Santa passing out gifts. Then, of course we will have our yearly lodge member Christmas Dinner. So watch the calendar and sign up for all the fun activities. ...

While reading a lot of past history I ran across a letter from a lost Elk, it is very moving and true…

The Member Who Never Came Back …

Letter from a past member
"It amuses me now to think that your organization spends so much time looking for new members, when I was there all the time. Do you remember me? I'm the one who was asked to join. I paid my dues, and then I was asked to be loyal and faithful member.
I'm the one who came to every meeting, but nobody paid any attention to me. I tried several times to be friendly, but everyone seemed to have friends to sit and talk with. I sat down among some unfamiliar faces several times, but they didn't pay any attention to me. I hoped someone would ask me to join one of the committees or somehow participate and contribute, but no one did.
Finally, because of illness, I missed one of the meetings. Then the next meeting no one asked where I'd been. On the next meeting date, I decided to stay home and watch a good television program. When I attended the next meeting no one asked me where I was the month before.
You might say I'm a good person, a good worker in my community. You know who else I am? I'm the member that never came back."

Always keep in mind we are all Brothers and Sisters in Elkdom and we should be faithful to our obligation of Fidelity, Charity, Justice and Brotherly Love.

We are always looking for Elks members to volunteer. If there is anything you are interested in and you want to volunteer call the office, they will help you get started.

This month I would like to say a special thank you to our facility and landscaping volunteers the Lodge looks great. Thank you Armor, Carl Jeffery, Bill Pritchard, Carl Reppert and crew.

Volunteer, Volunteer, Volunteer…and don't forget to "Have fun".
Fraternally,
Jack Warf
Exalted Ruler - Placerville Elks Lodge #1712


Yountville Annual Veterans BBQ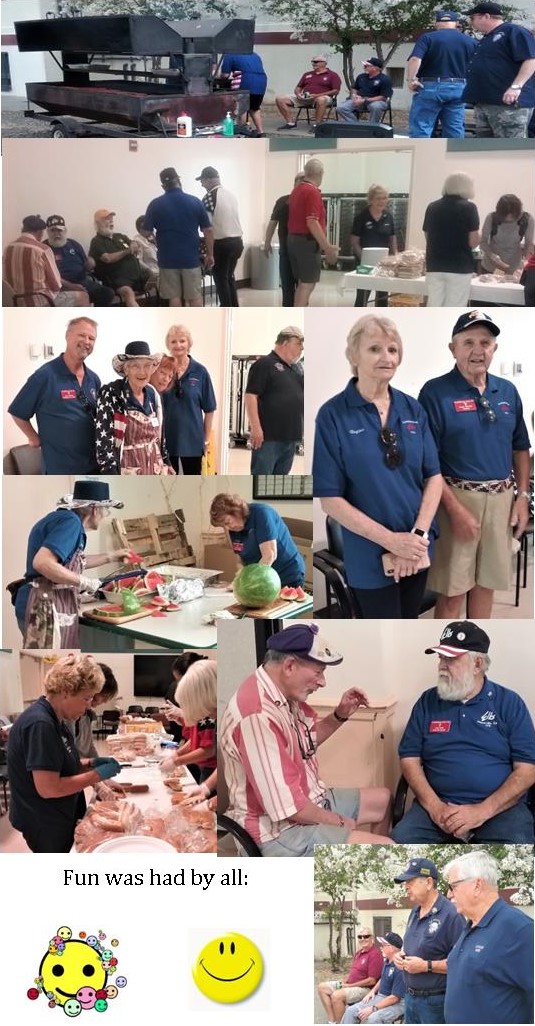 On August 10, 2019 Placerville Elks Lodge 1712 attended the Yountville Veteran's Home annual BBQ. This event is sponsored by the Northern Central District Elks of the California-Hawaii Elks Association. Our lodge had many volunteers to help prepare, serve and clean-up a BBQ lunch for the Veteran's at the home. Many thanks to all who attended and participated in this wonderful event.




Lodge Events Coming Soon
Oktoberfest Dinner & Dance, October 18th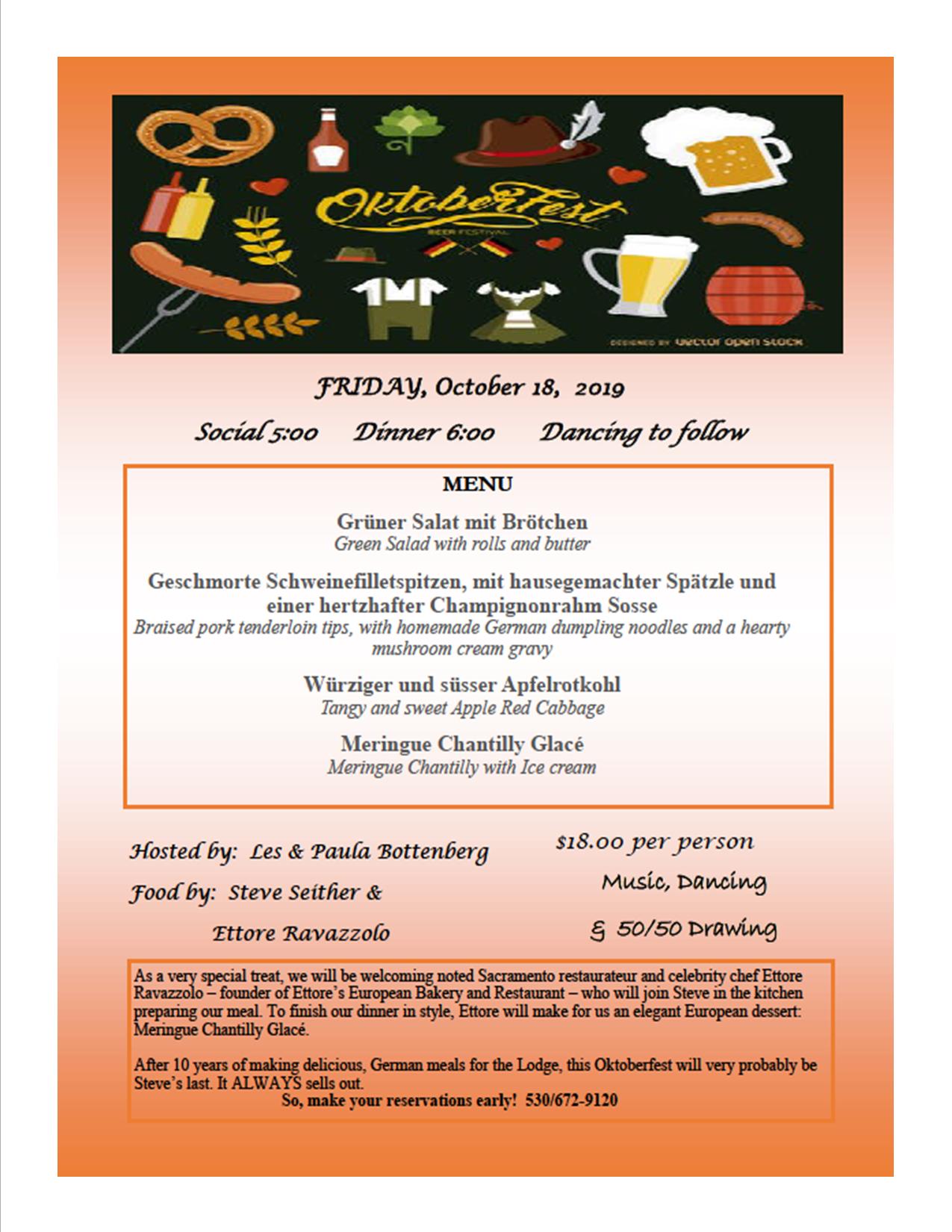 Fall is in the air and you don't want to miss out. The always spectacular Oktoberfest Dinner cooked by Steve Seither and help by celebrity chef Ettore Ravazzolo, founder of Ettore's European Bakery and Restaurant. Sign up early Social Hour is at 5pm, Dinner at 6pm with dancing music to follow till 10pm. Call the lodge to sign up. 672-9120
LAST Burn Your Own Steak, October 25th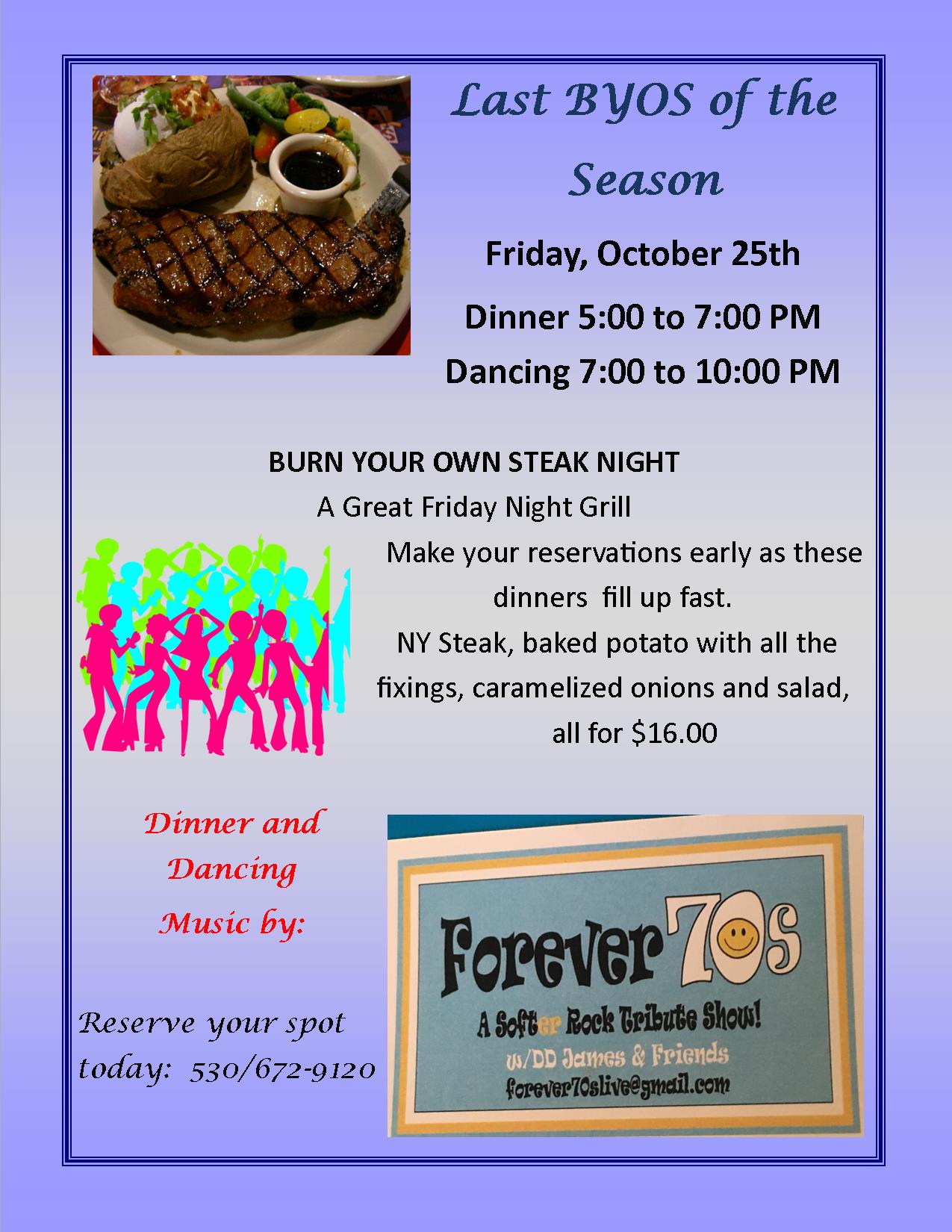 WELL - Here it is, the LAST Burn Your Own Steak night for the 2019 year. Can you believe where all the time went. So, Don' miss out on this one. Come BBQ your own New York Steak and enjoy the great weather here in October. We will also have a concert by Forever 70's Don't forget to sign up at the lodge or by calling the lodge at 530 672-9120 Dinner 5-7PM Dancing 7-10PM