Lodge Events & News
December Message from Exalted Ruler Dan Enright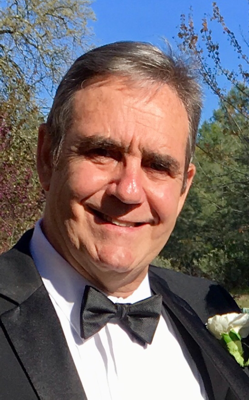 In the spirit of Thanksgiving, appreciation, and gratitude; it is a time to reflect on the bountiful blessings we have received in our lives. One act of kindness, honor, generosity, or the reaching out to our neighbors in need makes the difference between one giving up, to one finding strength to carry on. It's as simple as a smile, a pat on the back, or extending a hand that truly spotlights our value for humanity and trust in God. We continue to preserve in faith, trust and hope during difficult times; however, we are grateful for the opportunity to help out those in need through fundraisers, donations and various other means of giving.
This year Thanksgiving and holiday season may seem a little more difficult for many to bare, in the face of all the California fires that have impacted countless Elk members, their families and friends. That being said, I am very thankful and grateful for all those who have donated financially, materially, opened their homes to the fire victims and have prayed for all those effected by the fires. Our Lodge members are the true hallmark of
"Elks Care Elks Share"
I want to thank Jack Warf and Robert Sauer for hosting "Honoring our Veteran's" night. It was an incredible evening of sharing, comradery, and respecting those both deceased and alive who have given so much for our country. The sellout crowd enjoyed one of the finest meals; the food was plentiful and delicious. The service, volunteers, music and decorations made the event very special to all those who attended. A night to remember for a long time.
I want to thank all those who have given to our Lodge sewer fund. Your generosity is remarkable and our appreciation cannot be expressed in words.
I want to wish each and every one of you a blessed and safe Thanksgiving Holiday season.
We are extremely grateful to all our Lodge Volunteers!!
Fraternally,
Dan Enright
Exalted Ruler - Placerville Elks Lodge #1712
Christmas Dinner at the Lodge
On Tuesday December 18, 2018, Dan Enright (ER) will be hosting a wonderful Christmas Dinner and Social. Please come join your other lodge members for a wonderful holiday meal and social gathering.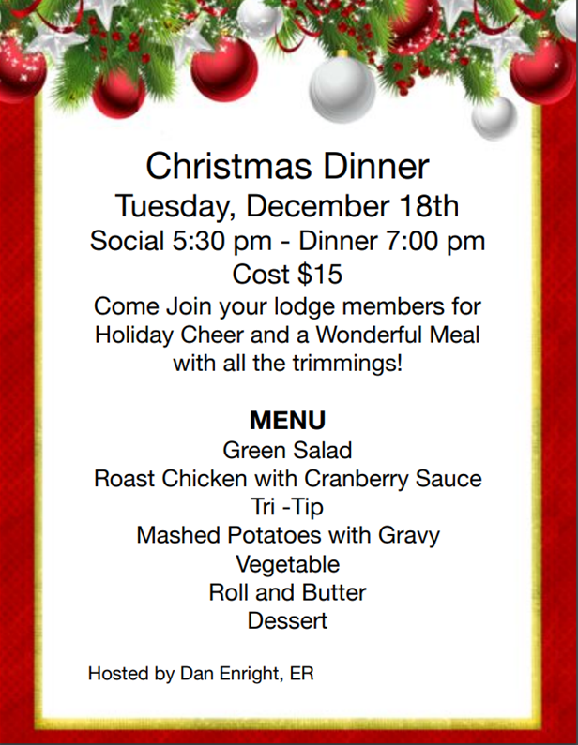 New Year's Eve Party at the Lodge
EAST COAST TIME CELEBRATION
Join your fellow ELks and family to ring in the new year with a 9pm ball drop. Bring some nibbles and appitizers to share. Happy New Year 2019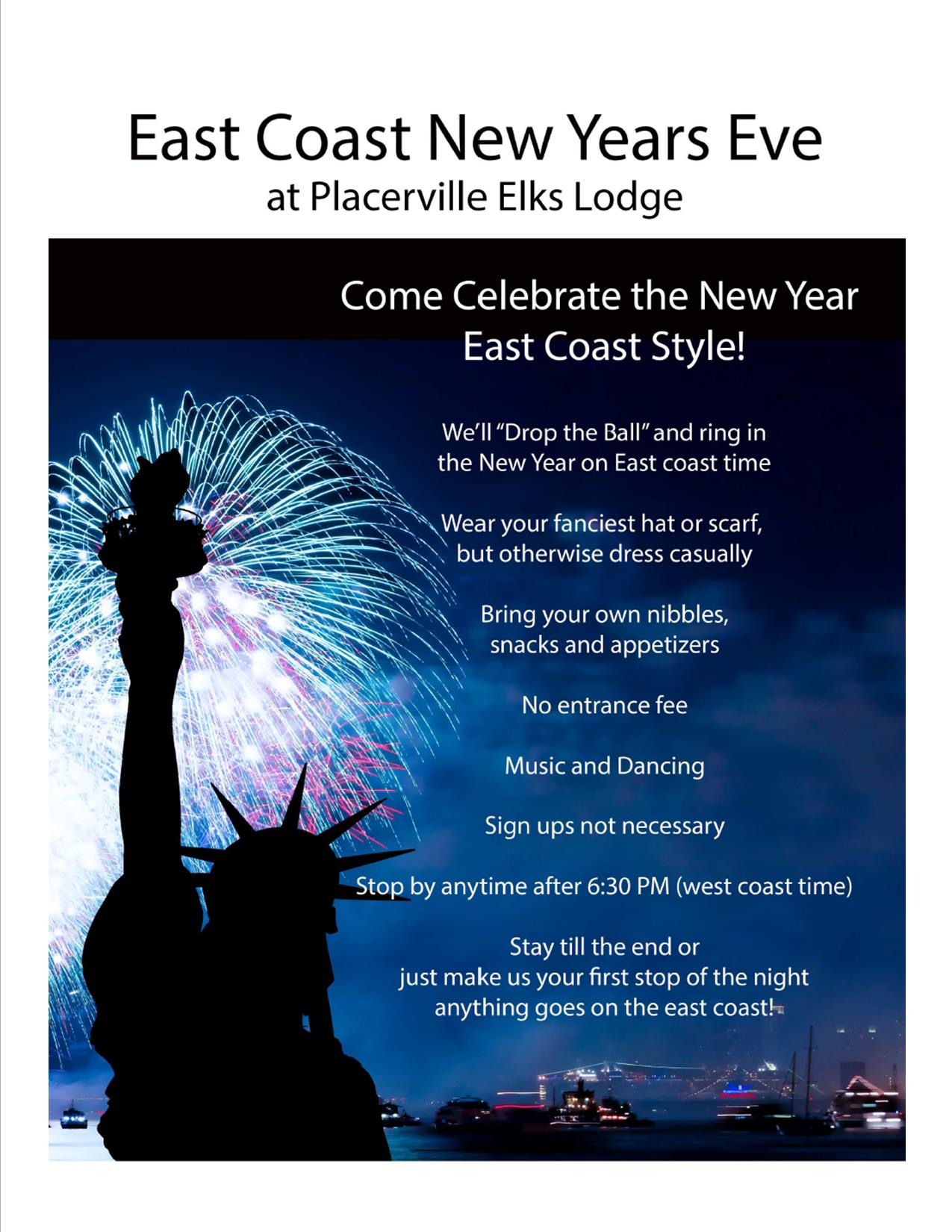 Upcoming Crab Feed Fund Raiser For the Lodge
GET YOUR TICKETS NOW
For the upcoming crab feed dinner. On Saturday January 26, 2019 the Placerville ELks PER Association will host its annual crab feed dinner. Seating is limited and always a sell out so get your tickets early. Come join with your fellow members and help support the lodge. It is always a great time.