Lodge Events & News
March Message from Exalted Ruler Jim Stephens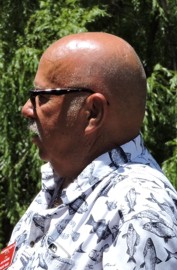 Greetings,
Let me first take this opportunity to thank everyone for allowing me the privilege of being your Exalted Ruler this past year. I consider this year as being a successful year due to all of my officers, Committee Chairs and their assistants, the bar and kitchen management and their staff, office staff, and all the volunteers and members who helped support our successful events. I can't forget all the members who included a little extra donation along with their annual dues to help us with our building maintenance fund for repair or replacement of our heating and air conditioning units.
After attending the District Deputy Clinic in Marysville, there were some issues that I feel should be brought to everyone's attention:
1. Starting April 1st, 2018, everyone ordering alcohol from the bar will be required to show their membership card. This is a directive from the District Deputy Grand Exalted Ruler. ABC has been cracking down on membership organizations such as ours, and if a non-member should purchase alcohol, it would be a violation and there are very serious consequences.
2. With all the current publicity regarding sexual harassment, let me remind everyone that Placerville Elks Lodge is committed to providing an environment that is free of all forms of discrimination and conduct that can be considered harassing, coercive, or disruptive, including sexual harassment. Actions, words, jokes, or comments based on an individual's sex, race, color, national origin, age, religion, disability, sexual orientation, gender identity, ancestry, citizenship status, uniform service member status, marital status, pregnancy, protected medical condition, or any other legally protected characteristic protected by applicable State or Federal law will not be tolerated.
3. As a member, should you witness an accident on the grounds or in the Lodge, immediately notify an officer of the Lodge. If no officer is available, contact the bartender. Take pictures with your cell phone, and submit as evidence, which will be submitted with an accident form. Never dispose of evidence (i.e., broken chair, etc.).
Well, you are a great group of people and it has been my privilege to serve again this year. I am, of course, going to continue my work and participation in "Elkdom". Next year I will again serve as a District Committee Chairman and I will be the president of the District PER Association. Dan Enright will be my successor as Exalted Ruler. He is a great guy and the Lodge is in for another fine year.
James Stephens—Exalted Ruler
Placerville Elks Lodge #1712 
Links & Correspondance