Lodge News
September 2019 Message from ER Jack Warf

Hello to all of our Elk Members,
This year has been very challenging yet rewarding, as I relied on my team, core values and Lodge mentors to guide me. I accepted the role of Exalted Ruler with a mission and vision to make a difference....
I believe, morale is high as shown by our increasing attendance at lodge events. Let's keep this going by being positive and working together to make it even better.

The office has been cleaned up and organized for optimal productivity and efficiency. Joni has been an asset in the position of Secretary and managing the lodge rentals. She keeps the office moving forward through all her interruptions and challenges, while still relatively new andlearning processes and procedures.

Our bookkeeper Pauline took on the daunting effort to manage our books and keep our records accurate. She is getting the job done and is handling it professionally. We were just advised this past week that we will be changing our chart of ac-counts. So, while still learning the existing process, she'll be an integral part of implementing a new one.

So when you see Joni and Pauline in the Lodge stop and say "hi" and thank them for the outstanding job they are doing for Elkdom and our Lodge. "Outstanding job Ladies" thank you.

A big 'THANK YOU' goes to Dan Enright. Through his vision he coordinated our Solar project and our system is now up and running. All 160 panels and three inverters are running great. In our first 12 days we have generated over 3.05 MWH of power I do expect our Lodge will realize a huge savings here!!!

Thank you to all of our Activities Chairs and our Officer core for your long hours of prepping for our DD visitation. We did very well with a few issues which we have already started to resolve.Another huge thank you goes to Marc Roberts for chairing the John Collens Trust efforts to collect matching funds to pay off/down our mortgage.

And, I thank every member who donated. The final fund raising dinner was one of the best nights I have experienced in my 14 years as an Elk. Thank you, Joni & Don for coordinating this event and a huge thank you to everyone attending for opening your hearts and your wallets!!!
Fraternally,
Jack Warf
Exalted Ruler - Placerville Elks Lodge #1712


Yountville Annual Veterans BBQ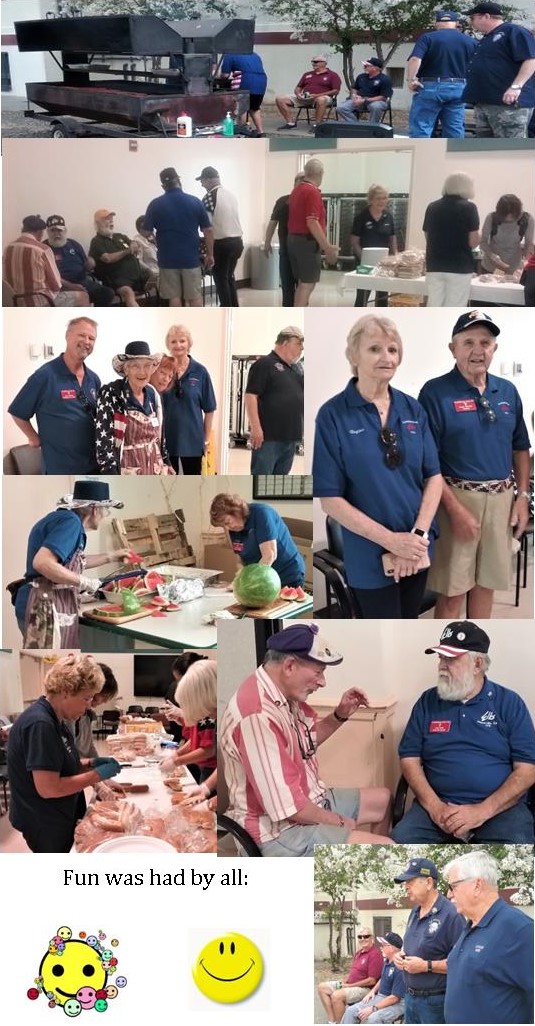 On August 10, 2019 Placerville Elks Lodge 1712 attended the Yountville Veteran's Home annual BBQ. This event is sponsored by the Northern Central District Elks of the California-Hawaii Elks Association. Our lodge had many volunteers to help prepare, serve and clean-up a BBQ lunch for the Veteran's at the home. Many thanks to all who attended and participated in this wonderful event.




Lodge Events Coming Soon
Hot August Nite Dinner & Dance, August 23th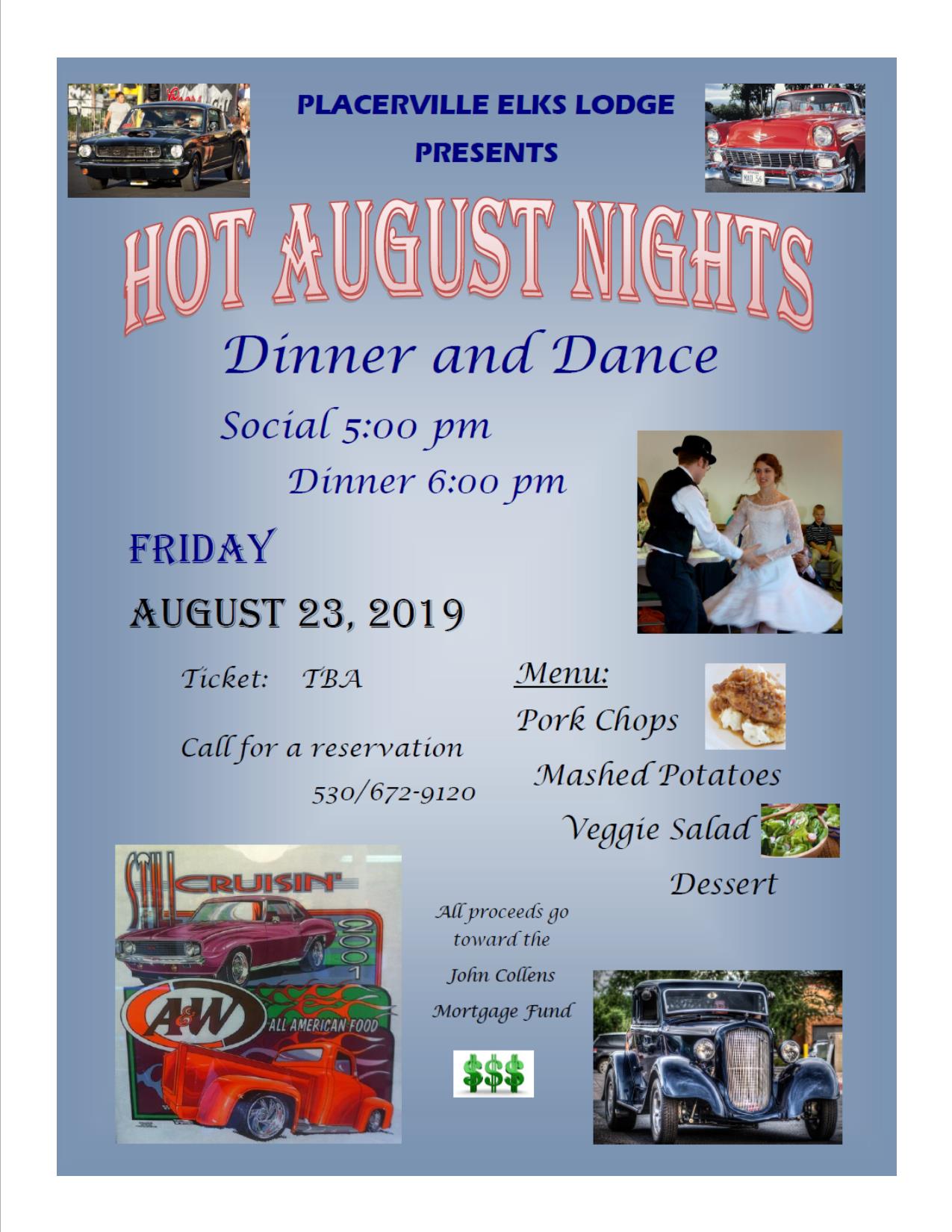 With summer in full swing, it is time to get to the lodge and enjoy an nice evening of dinner and dancing. Social Hour is at 5pm, Dinner at 6pm with dancing music to follow till 10pm. Call the lodge to sign up. 672-9120
Annual NCD District Spectular, September 21st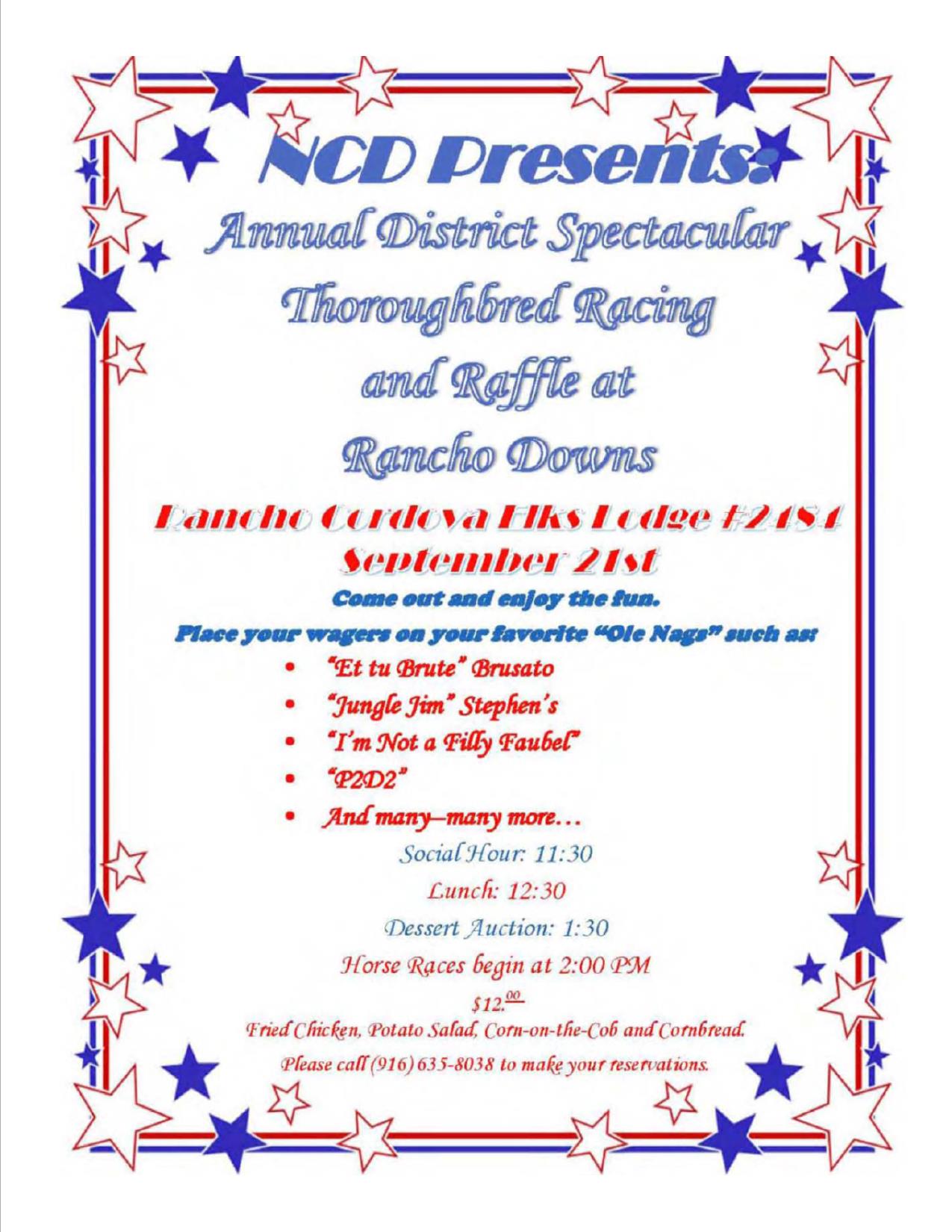 Come join in on the fun at Rancho Cordova Elks Lodge NCD Spectacular with Thouroughbred Racing, Raffles and much more. Social Hour is at 11:30 am, Lunch at 12:30pm with Horse Racing starting at 2pm.
INVITATION TO PARADISE ELKS LODGE LUNCHEON, October 5th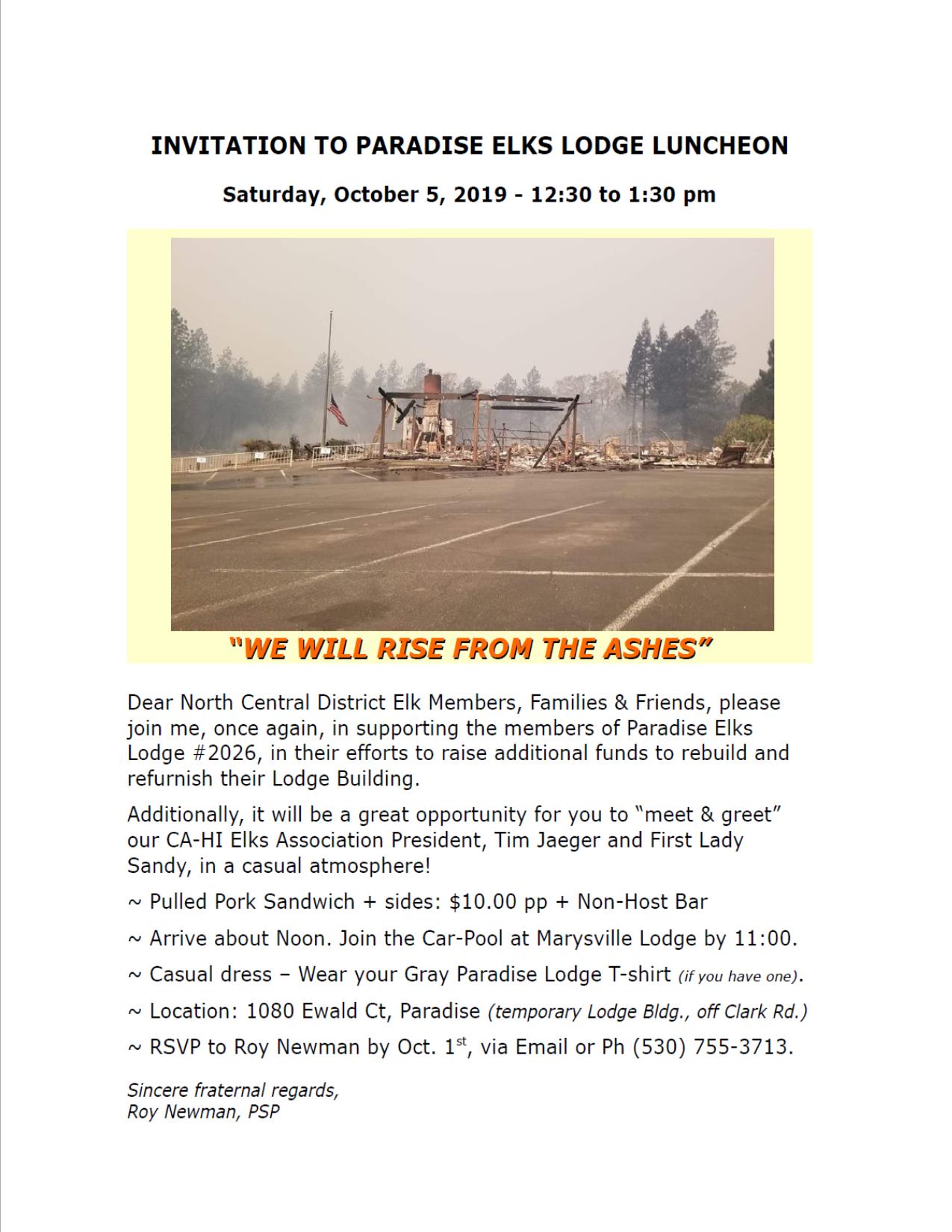 Dear North Central District Elk Members, Families & Friends, please join me, once again, in supporting the members of Paradise Elks Lodge #2026, in their efforts to raise additional funds to rebuild and refurnish their Lodge Building.