Lodge News
June 2020 Message from ER Regina Stephens
My Fellow Lodge Members
As I write this article, I believe we are reaching a very important phase in this pandemic virus. We are looking at reopening our Lodge. Our focus is very conservative with our members health and safety is our main concern.
I sincerely thank all of you who have participated in our take-out dinners. These dinners may continue as we re-open for those of you who are not quite ready to "dine-in". We all would very much like our world to be normal again, but we will cautiously proceed to re-open the Lodge taking steps to ensure we do not put our members at risk.
We are currently formulating plans for a Flag Day Ceremony to safely "kick-off" our gradual re-opening. So, watch for our eblasts which will keep you current as our plans come together.
And, my sincere "thanks" to every one who worked to make our Mother's Day Take-out event such a success, and to all of you who came and purchased a meal.
More good times are surely in our future!
Stay safe, stay happy, stay healthy.
Regina Stephens, Exalted Ruler
Americanism Essay Contest Awards Dinner 2020
On February 27, 2020, Placerville Elks lodge held the Awards dinner for the Americanism Contest winners.

Lodge Events Coming Soon
Drive Through Take Out Meals, Wed/Fridays in June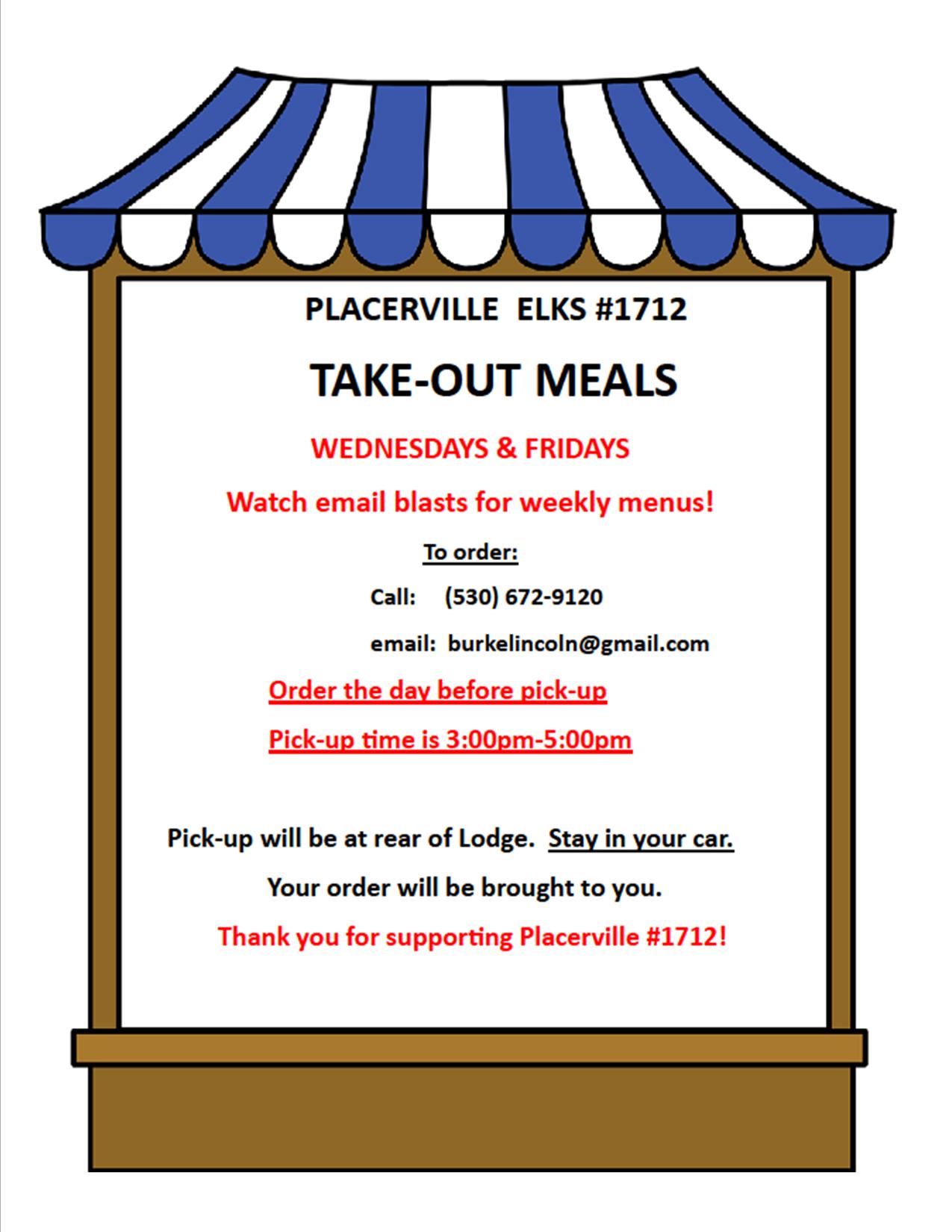 The lodge is providing a Drive Theough Take out meals service every Wednesday and Friday for the month of June. You must order you meal(s) the day before by calling 530 672-9120. The meals are available for pick up between the hours of 3-5PM. Please stay in your car and the meals will be delivered to you. The cost of each meal is $10.00 Thank-you for your support and stay well.
Volunteer Appreciation and Installation Dinner, July 18, 2020
Exaulted Ruler, Regina Stephens, invites you to attend this Thank-you dinner provided free to our members who volunteer for the lodge during the year. Without these volunteers the lodge would not function. Others can join the dinner for a nominal price. Sign up at the lodge or by calling 530 672-9120 for your reservations.