Lodge Events & News
March 2019 Message from Exalted Ruler Dan Enright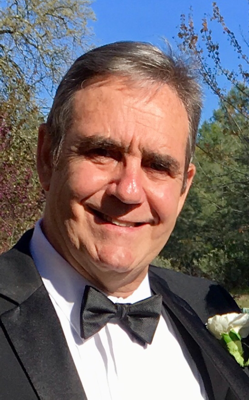 It is that time of the year where Officer nominations and elections take place for next year's officers. Fortunately, we have a great deal of interest in the positions! By the time you read this letter, elections will have taken place on February 19th during our lodge meeting and the planning for 2019-2020 will be well under way. I would like to congratulate all the members who stepped up to volunteer as officers of our lodge. ...


Judy Quincy, our editor of the lodge gazette for many years, has recently stepped down after publishing well over a 100 gazette newsletters! Major cudos to Judy for her endless hours of sacrifice and dedication to the lodge. She has established a legacy of editorial professionalism and her work is undoubtedly a labor of love for the Elks. Many believe she produced the best published gazette in the district!! I certainly agree. Fortunately, our lodge has been blessed to have both Les and Paula Bottenberg volunteer to carry on where Judy left off as Chief Editor and publisher of our gazette. So far it has been a seamless transition and we look forward to your first issue. On behalf of the House and Board Committees we thank you Les and Paula Bottenberg for your spirit to take on such a demanding, challenging and important position in the lodge.

As you know, our 2019-2020 dues and assessment notice was recently sent out to all members of the lodge. Please pay special attention and consideration as you review the third section of the notice. This section allows members to designate optional contributions to one or more of their favorite committees - " Elks National Foundation, State Major Project, Youth Activities, or the Lodge Building Fund." Bear in mind, we continue to face building maintenance expenses, sewer debt, fund raising shortages and program fund deficiencies. Your contributions truly make a difference and are greatly appreciated.

This year we have strived to be fiscally responsible by cutting cost where ever possible and in some areas made great progress by implementing new strategies to cut cost. For example, we changed all the lighting to LED, installed an energy saver air conditioning system, installed solar panels to mitigate the total reliance on PG&E and their price increases. In turn, we are anticipating a 75% to 90% reduction in energy cost! Also, equally important, we focused on increasing revenues by holding as many lodge events as possible, increase our RV revenues, and brought in many enthusiastic new members!

It is important to recognize those who have stepped up to host the recent events and all the volunteers that made those events enjoyable and memorable. I want to thank Jack Vranes for hosting a very successful and plentiful crab feed dinner. The lodge was packed to full capacity and no one went home hungry. The barbershop Choir hosted by Regina and Jim Stephens was a real treat, and the Valentines dinner dance / PER recognition night hosted by Dan and Elisa Enright. The evening was fantastic and the dinner was beyond all expectations. First lady, Elisa coordinated an evening of musical favorites for all to enjoy well into the night. St. Patrick's Day dinner dance in March will be hosted by the kitchen staff. There are so many volunteers that made it all happen and their commitment to service is recognized with great appreciation and respect.

I want to thank all those who have given so generously to our lodge for their effort, sweat, donations, and passion of service. This includes the Bar, Kitchen staff, all Committee members, Gazette producer, the Officers and Board members. Lastly and most importantly to our members who participate in both deed and action.

We are extremely grateful to all our Lodge Volunteers!!

Fraternally,

Dan Enright

Exalted Ruler - Placerville Elks Lodge #1712

Lodge Events
Purple Pig Races and Dinner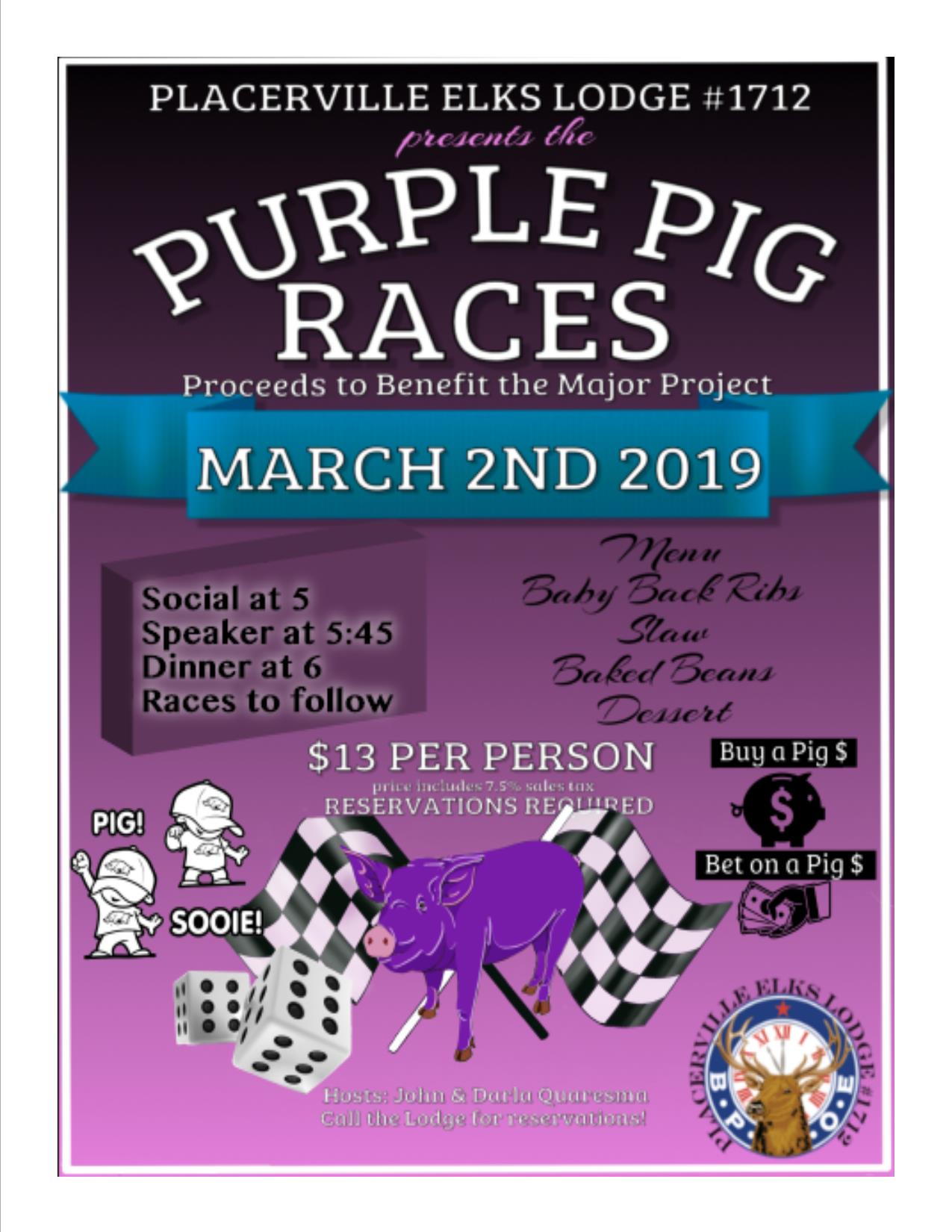 Yes, the Purple Pig Races are back again. Come join in the fun on March 2, 2019. Buy a pig, bet on a pig but most important support ypu Elks Charities. Social hour starts at 5 PM, a Guest Speaker at 5:45 PM and dinner will be at 6 PM with races to follow. You will need a reservation so call the lodge now! 530-672-9120.
St. Patrick's Day Dinner and Dance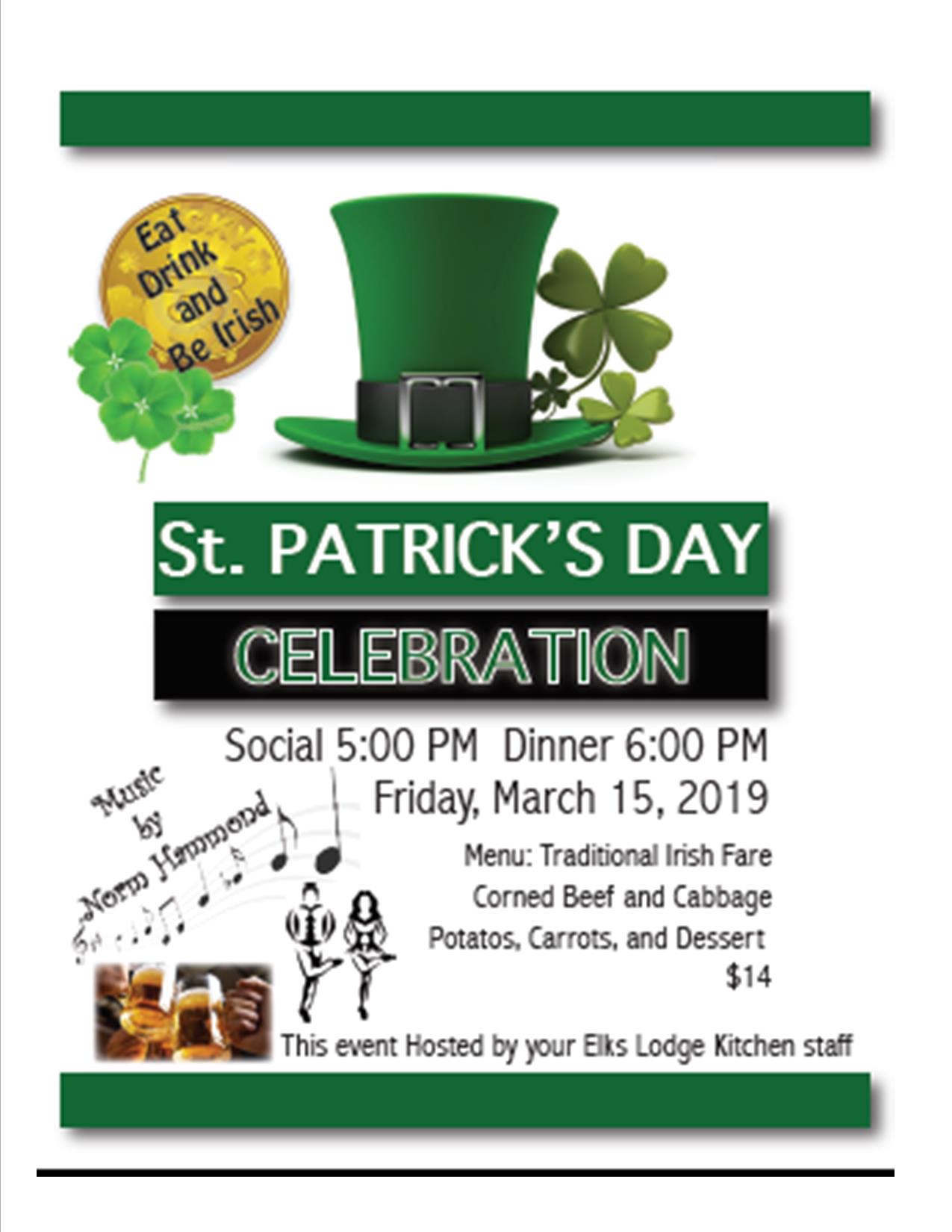 Join your fellow Elks and member guest on Friday March 15, 2019 for a fun filled Irish St. Patrick's Day Celebration There will be dancing with music provided by Norm Hammond and a Traditional Irish dinner of Corned Beef and Cabbage, potatos, carrots and a desert. This event is hosted by your wonderful Elks Lodge kitchen staff. Social hour starts at 5 PM and dinner will be at 6 PM. You will need a reservation so call the lodge now! 530-672-9120.