Lodge Events & News
Octoberfest Dinner & Dance
Come to the exciting Octoberfest Dinner on October 19. See the Flyer
Elks Hosting Veterans Dinner and Dance
On Friday, November 9, 2018 the Placerville Elks will host a Veteran's Dinner and Dance at the lodge. Member Elks who are Veterans will dine free. The cost for other members and guest will be $15.00. Please come join us for an evening of special tributes to our Veterans. See the Flyer
October Message from Exalted Ruler Dan Enright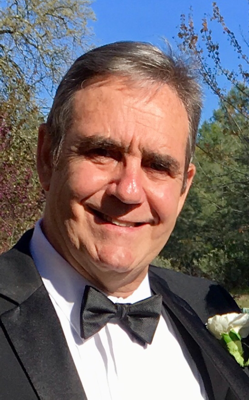 Fall is now upon us. The forthcoming months ahead patiently await a seamless transition, as the weather cools and the leaves fall, children are back in school and the Holidays are fast approaching. It is surely a mystical time of the year.
On September 4th, the District Deputy Grand Exalted Ruler, William (Bill) C. Faubel, and his wife Marcie attended our Lodge for the annual DDGER Visitation. His comments and review of our Lodge was met with a round of applause, when he reported he was well pleased. Other dignitaries were delighted by the efforts of our Committee Chairs and Lodge members who continue to foster "Elks work" throughout our community. It was a great honor to represent the Lodge as your Exalted Ruler and to share all your "good works" with everyone present. A special thank you goes to Regina Stephens for her dedication and hard work in assembling the Committee Report binders.
We had a successful "Fabulous Fifties" dinner dance that many of you participated in last month. What a fun time it was to bring back the nostalgia of yesteryear. The decorations and ambiance were epic. The dinner was fantastic, topped offed with classic root beer floats and vintage music. It surely was a walk down memory lane for many of us. A sincere thank you to First Lady Elisa Enright (Host), Kathy Lincoln, and her entire kitchen crew, Leo our cook, Jack Warf -Leading Knight, Cherie Greeninger, (root beer floats) Charlene Buscaglia, Kathy Lopez-Loyal Knight (decorations), Jack Cummings—Lecturing Knight and his wife Monica, (set up and take down) Pauline Ross, Phyllis Grinstead, Sherry and Gina Phillipsen, Ginny Niemamn (servers) Roger Perry, (registration and ticket sales) and all those who contributed to an outstanding evening!
By the time you receive this Gazette we will have had our Football Fiesta Kickoff; and our concert series band, hosted by Barbara and Arlen Dockter, who are doing an outstanding job!
Please coordinate your Fall calendar with the Gazette calendar and plan to attend Burn your own Steak (1st Friday of the month), Friday Night Grill, Taco and Burger Bar, as well as Pulled Pork nights. Food for everyone!
Looking to win? Don't forget to come to Bingo on the 1st Sunday of each month for an exciting time. Bingo continues to draw a number of serious, fun loving players!
Jenga nights, coordinated by John and Darla Quaresma, are a lot of fun and proceeds go to our Major Project—Purple Pig. Jack Vranes coordinated our very first Texas Hold'em training class. We appreciate the dedicated and committed Elk volunteers.
Some fun District activities are coming up so mark your calendar!
American Bandstand on 10-6, call- Rod Battaglia 530-908-7632
Jamboree 10-4/10-7, call Jim Boston 530-283- 2265
VetStock (to support Veterans) @ Sacramento Lodge on 10-13, call 916-366-5372 or order on line: https://vetstock2018.enentbrite.com
Oktoberfest 10-19, Call Cathy Walker 530-672- 9120
Halloween Party 10-27, Call Cathy Walker 530- 672-9120
Want to get involved, but don't know how? Contact a Committee Chair, they would be delighted to welcome you. Their name and contact information is listed in this Gazette. Do you have a trade or skill you would like to use? We are always looking for all professional skilled volunteers. Please call Cathy Walker to put your name on a resource list. 530-672- 9120.
We are extremely grateful to all our Lodge Volunteers!!
Fraternally,
Dan Enright Exalted Ruler—Placerville Elks Lodge #1712
Santa's Open House Holiday Boutique
On Saturday November 2, and Sunday November 3, 2018 The Placerville Elks Lodge will host the Santa's Open House Holiday Boutique and Craft Fair. Proceeds from this event will benefit the Foster Kids of El Dorado County. Please plan to attend on Sat from 10am to 7pm or on Sun from 9am to 4pm