Lodge News
October 2019 Message from ER Jack Warf

My Fellow Elk Members:
In the spirit of Thanksgiving, appreciation and gratitude; it is a time to reflect on the bountiful blessings we have received in our lives. One act of kindness, generosity, or the reaching out to our neighbors in need makes the difference between one giving up, and one finding strength to carry on. It's as simple as a smile, a pat on the back, or extending a hand that truly spotlights our value for humanity and trust in God. We continue to persevere in faith, trust and hope during difficult times; however, we are grateful for the opportunity to help out those in need through fundraisers, donations and various other means of giving. This year Thanksgiving and holiday season may seem a little more difficult for many to bear, in the face of all the California fires that have impacted countless Elk members, their families and friends....

Our Lodge members are the true hallmark of "Elks Care Elks Share"

I want to invite all Veterans to our yearly Veterans dinner and dance "Honoring our Veteran's" night out. It is an incredible evening of sharing, comradery, and respecting those both deceased and alive who have given so much for our country. The sellout crowds each year enjoy excellent meals; the food is plentiful and delicious. The service, speakers, music and decorations make the event very special to all join those who wish to show their appreciation to our Veterans, especially if you are one! Wear your colors!

Your Lodge Officers will be attending the ELKS Mid-term Convention which includes training courses from 10/31-11/3.

Have you heard about our Monday night football party? You'll find $2.00 beers and an excellent assortment of foods to enjoy. The attendance at this event is amazing!

I want to wish each and every one of you a blessed and safe Thanksgiving Holiday season. We are extremely grateful to all our Lodge Volunteers!!
Fraternally,
Jack Warf
Exalted Ruler - Placerville Elks Lodge #1712


Yountville Annual Veterans BBQ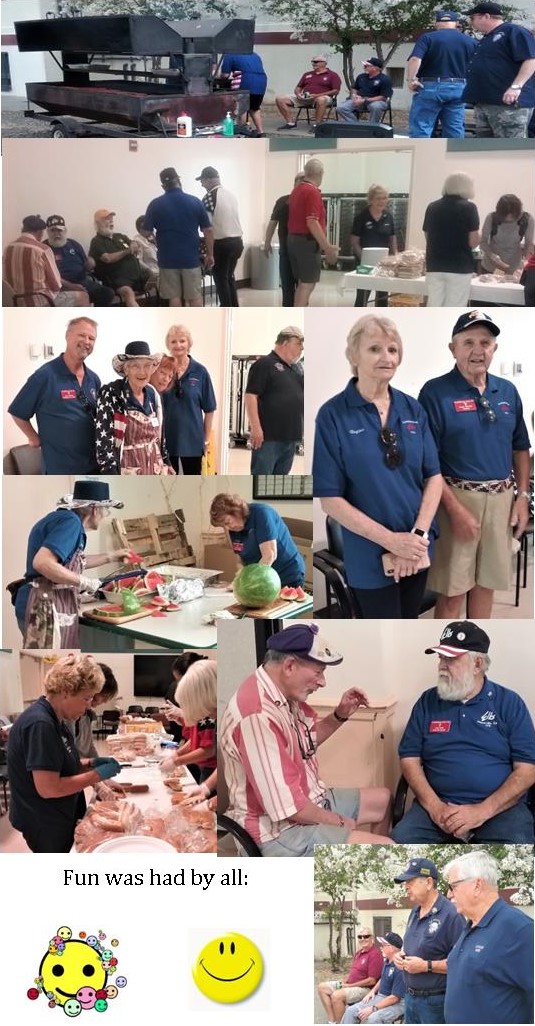 On August 10, 2019 Placerville Elks Lodge 1712 attended the Yountville Veteran's Home annual BBQ. This event is sponsored by the Northern Central District Elks of the California-Hawaii Elks Association. Our lodge had many volunteers to help prepare, serve and clean-up a BBQ lunch for the Veteran's at the home. Many thanks to all who attended and participated in this wonderful event.




Lodge Events Coming Soon
Veterans Dinner & Dance, November 9th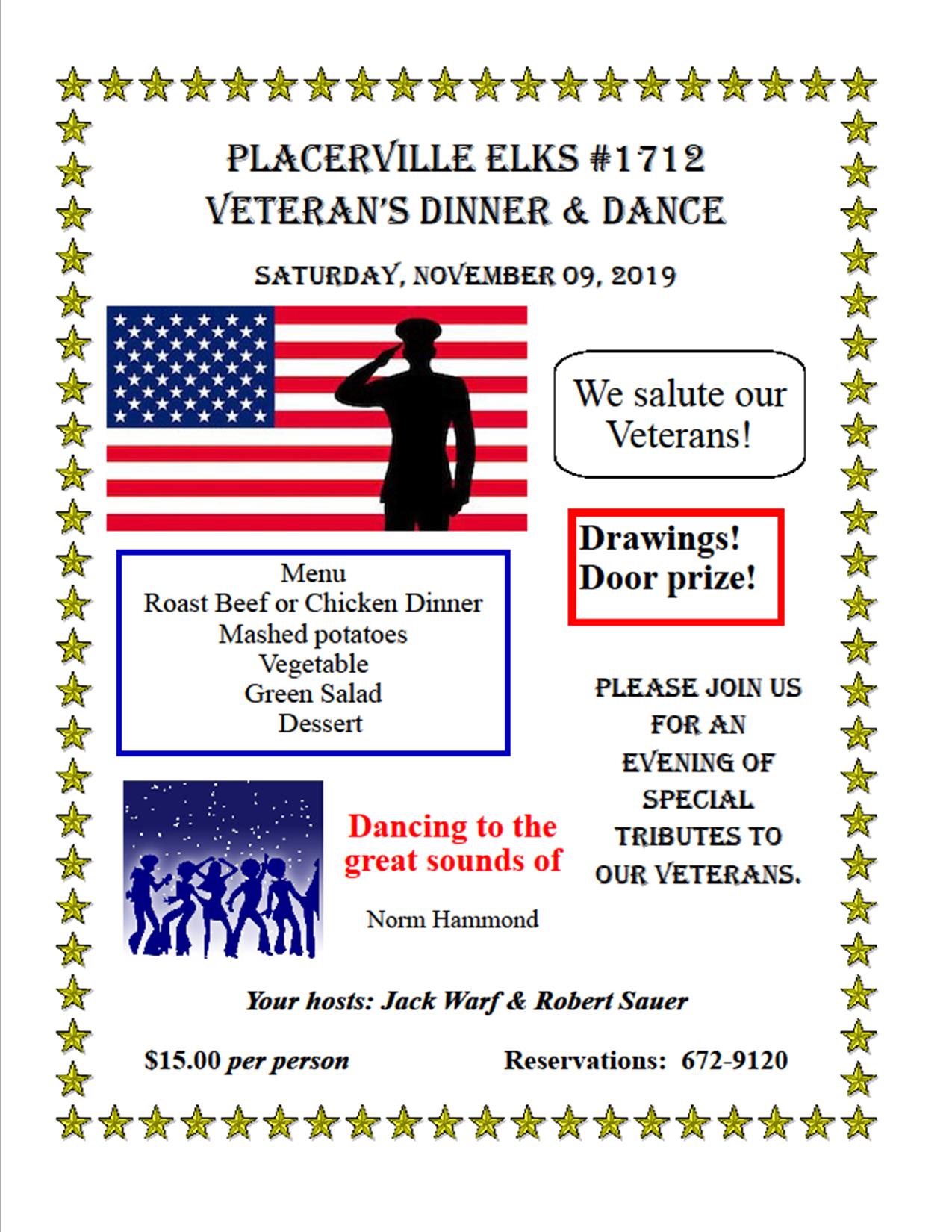 Come to the lodge and help us salute our Veterans. Enjoy a wonderful meal of Roast Beef or Chicken Dinner with mashed potatoes, vegetables, green salad and desert. Dancing music for the wonderful evening will be by Norm Hammond. All for $15.00 per porson. Sign up early. Social Hour is at 5pm, Dinner at 6pm with dancing music to follow. Call the lodge to sign up. 672-9120
Chili Cook-off, November 14th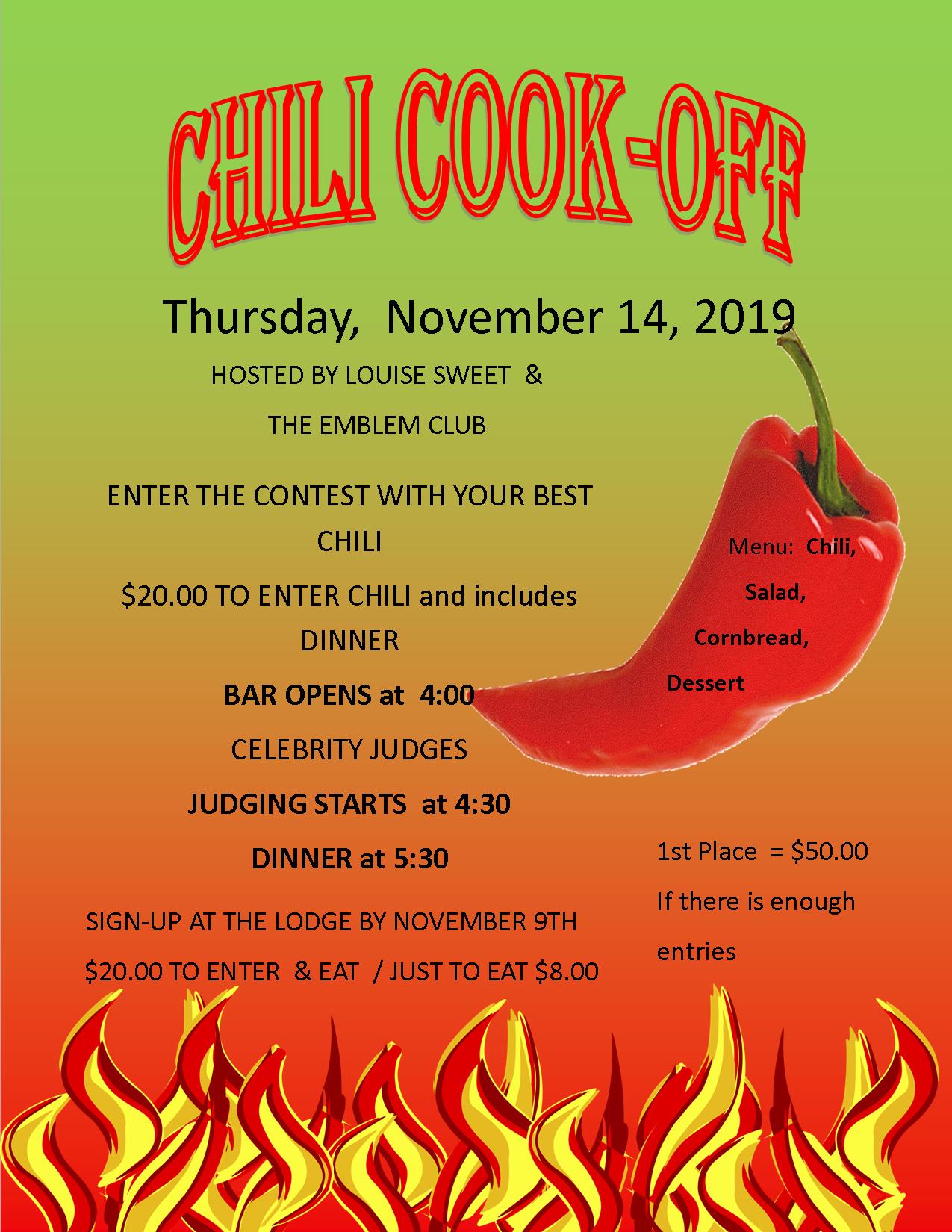 Hosted by the Emblem Club and Louise Sweet this chili cook-off is always great fun and comptition. Bring you best post of Chili and for the entry fee of $20 you can take home first prize of $50 (provided enough entries). For others, just $8 will get you a dinner of chili, corn bread and green salad. Don't forget to sign up at the lodge or by calling the lodge at 530 672-9120 Social 5PM Dinner 6PM
Thanksgiving Dinner, Novemeber 21st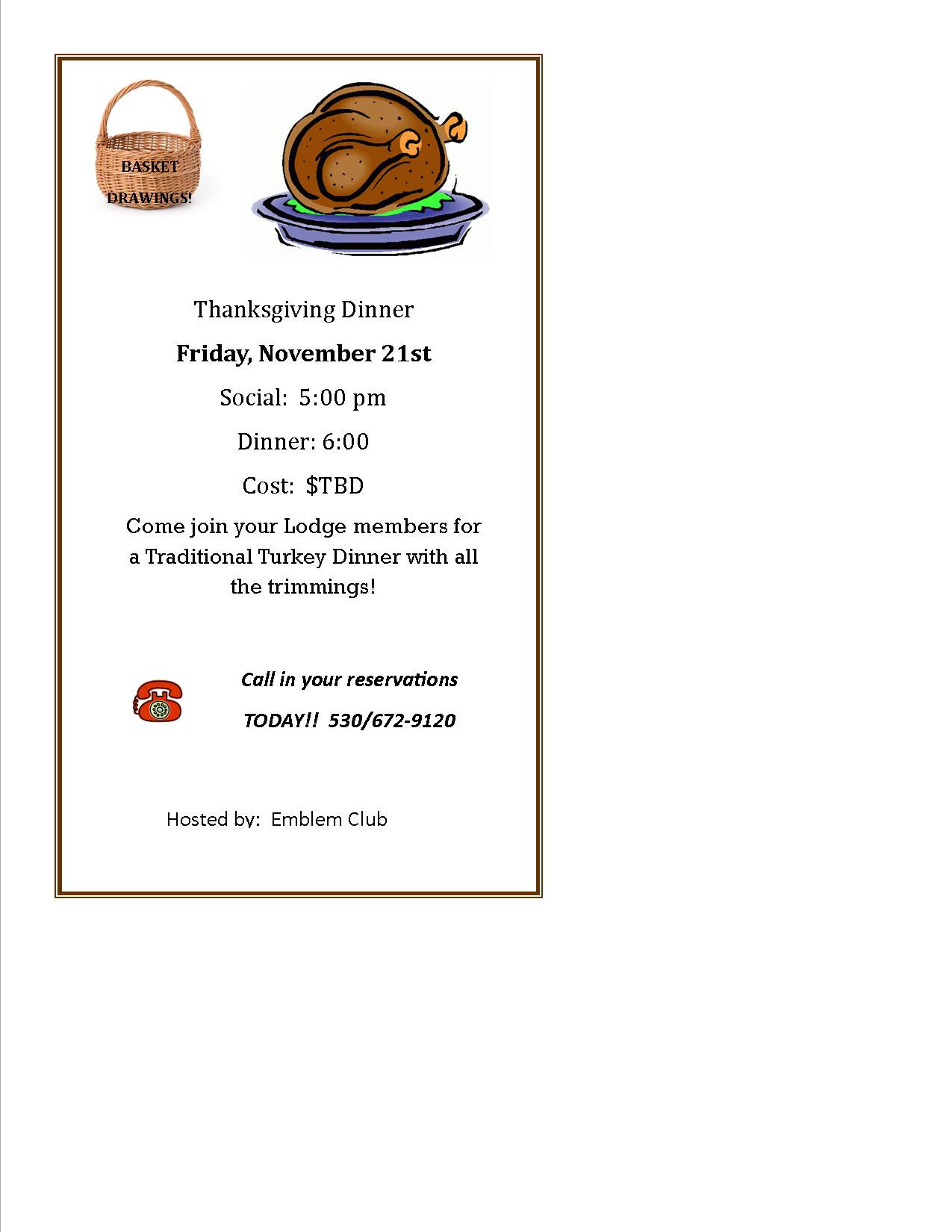 Hosted by the Emblem Club, we will be having a traditional Thanksgiving dinner of Roasted Turkey with all the trimmings. Enjoy a social hour with Elk friends and family. Please sign up at the lodge or by calling 530 672-9120 Social 5PM Dinner 6PM
CHEA President's Dinner, Novemeber 23rd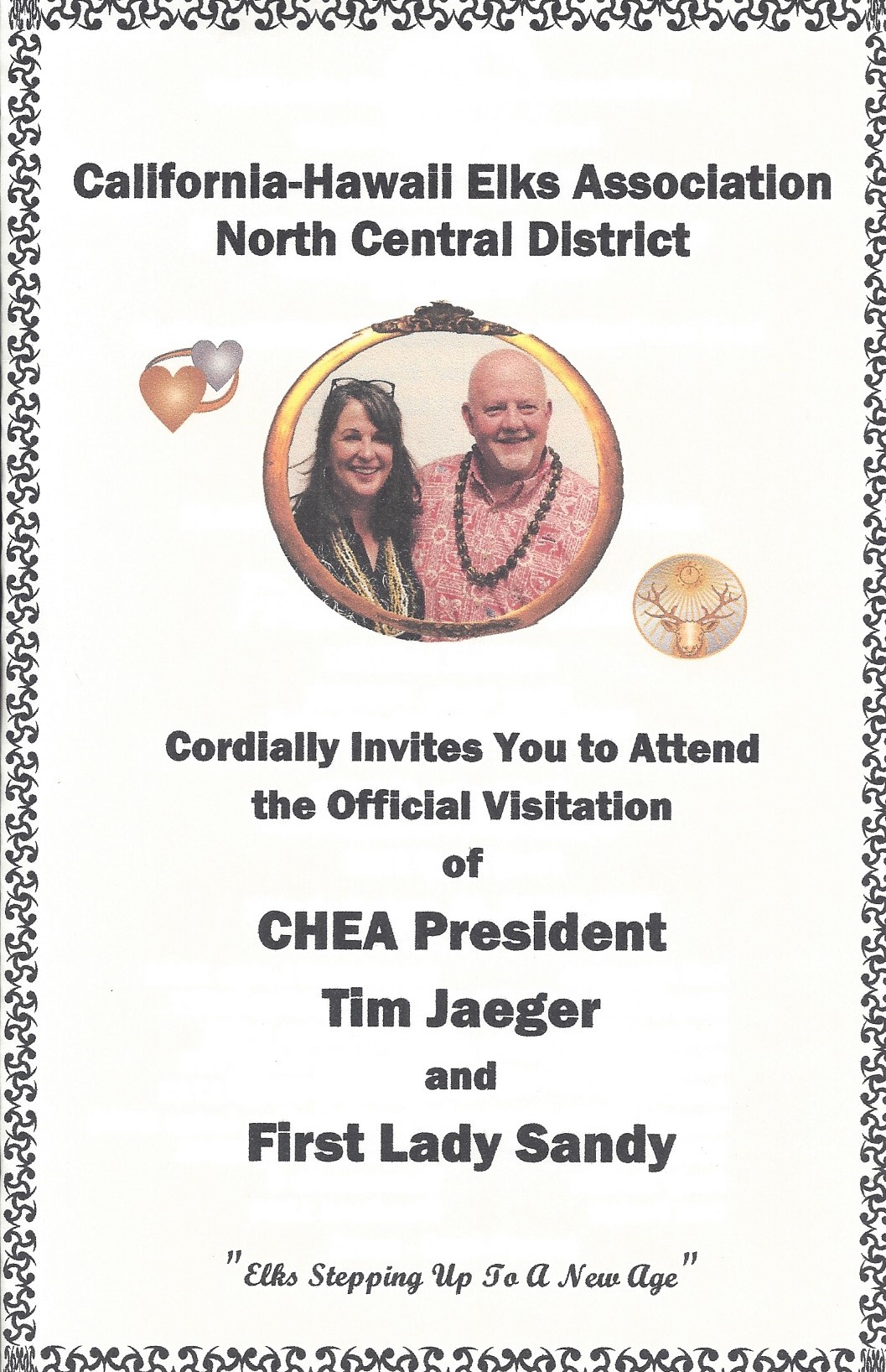 The California-Hawaii Elks Association North Central District encourage you to attend the official visitation dinner for President Tim Jaeger and First Lady Sandy. Sign up at the lodge or by calling 530 672-9120 Social 5:30PM Dinner 6:30PM